Video Management Software offers monitoring, repurposing tools.
Press Release Summary: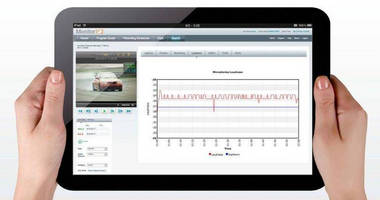 Cable Suite comprises Monitor IQ cable monitoring system, MediaPro IQ content repurposing system, and ManyView IQ IP video distribution system. While Monitor IQ v3.1 offers monitoring, recording, and reporting for cable channels, MediaPro IQ can record encrypted cable feeds and lets users edit, clip, and publish live/recorded content in real-time. DNLA-enabled ManyView IQ aids deployment of private, enterprise-wide IPTV system to users who need to view real-time video signals at desktop.
---
Original Press Release:

Digital Nirvana Debuts Its New Cable Suite at SCTE Expo 2012



Newark, CA – Digital Nirvana will launch its product offerings to the cable industry at the upcoming SCTE Cable-Tec Expo, held October 17-19 at the Orange County Convention Center in Orlando, Florida. Making their SCTE debut is the company's Cable Suite, which includes: Monitor IQ, a cable monitoring system; MediaPro IQ, a content repurposing system; and ManyView IQ, an IP video distribution system.



"Our product line offers unique cost-saving and operational advantages to cable providers," explained Ned Chini, vice president of sales and marketing, Digital Nirvana. "Our monitoring system, Monitor IQ, offers full-featured monitoring, recording and reporting for hundreds of cable channels.  Key applications include ad insertion verification and validation, CALM Act compliance, adaptive bit-rate/OTT streaming, and SDV/on-demand – all of which are critical monitoring areas today. Our content repurposing system, MediaPro IQ, was designed specifically for the cable market with its ability to record encrypted cable feeds for content repurposing and rebroadcasting. We're very excited to show off our latest and greatest technology at SCTE - the year's premier cable engineering event."



The newest version of Digital Nirvana's Monitor IQ, Version 3.1, will be unveiled in the U.S. at SCTE. New features include: SDI playout, flexible content archiving, real-time newscast exporting, watermark NAVE decoding, centralized management, Dolby E audio standard support, director's audio track and H.264 video format support. The Monitor IQ cable monitoring system is divided into four packages based on individual needs, and offers an efficient architecture that reduces operation costs and lowers the total cost of ownership.



Monitor IQ Starter is an entry-level package that offers all the logging functionality necessary for a one- to two-channel system and includes 90 days of low-resolution storage. Searching is based upon keywords, titles, subtitles, descriptions, textual metadata, closed-caption text and imported logs, with filtering by time, date and channel. Recordings can be easily edited, clipped, stored and sent via email or FTP.



Monitor IQ Essentials is a logging and monitoring system that includes all the functionality necessary for broadcasters to ensure regulatory compliance. New features being shown at the SCTE show include support for IP as an input source, and loudness monitoring is now bundled in as a standard feature within the package.



Monitor IQ Plus includes all of the features found within Essentials and adds several new enhancements including the ability to connect and control Monitor IQ via an iPad, iPhone, or Android interface. This mobile feature makes it easy for field sales reps to show clients their ad content in the context of the broadcast programming.  Other new features include centralized management and a web services (REST) API.



Monitor IQ Premier extends beyond the capabilities found in the other packages with innovative, new features, such as: ad insertion verification and validation, CALM Act compliance, adaptive bit-rate/OTT streaming, and SDV/on-demand, directors audio track, advanced metadata harvesting, and integration with third party routers, multi-viewers, TS analyzers, and traffic and automaton platforms.



Also included in The Cable Suite is MediaPro IQ, a content repurposing system for multi-platform distribution. The solution is designed for news and sports directors who frequently repurpose content from cable channels, and allows users to record encrypted cable feeds for content repurposing and rebroadcasting. MediaPro IQ users can easily edit, clip, and publish live or recorded content in real-time. By intelligently using cable card technology, MediaPro IQ records encrypted cable feeds in full HD. The solution is compatible with a variety of web browsers, and has the ability to interface with iPad, iPhone and Android. Video can be exported to Flash, MPEG-2, MPEG-4, H.264, and XDCAM and other formats for content repurposing.



ManyView IQ is yet another major component of Digital Nirvana's Cable Suite. The solution offers an easy and cost-effective way to deploy a private, enterprise-wide IPTV system to users who need to view real-time video signals at their desktop. The system eliminates the need for costly coaxial cabling, IP encapsulators, and IP output encoders. IP multicast delivers real-time video feeds to desktop and set-top boxes throughout an organization. ManyView IQ is DNLA-enabled, which provides VOD-like ability to store, distribute, and publish offline video assets throughout the enterprise for any device on the network.



Digital Nirvana will be in the MegaHertz booth #2421 during SCTE.  MegaHertz is a VAR and systems integrator of multi-vendor system solutions that support the deployment of video, voice and data technologies in fiber/coax broadband/IP networks.



"We're proud to partner with Digital Nirvana at such a key event," said Guy Levassar, Director of Business Development, MegaHertz. "Digital Nirvana's monitoring solutions for ad insertion, compliance, adaptive bit-rate/OTT streaming and SDV/on-demand offer tremendous value for cable and IPTV providers. We look forward to increasing awareness of their powerful and innovative technology to top industry decision makers."



About Digital Nirvana

Since 1996, Digital Nirvana has been empowering customers with innovative knowledge management technologies. By combining media and digital technology expertise, Digital Nirvana makes it possible for organizations to streamline operations and gain competitive advantage with advanced product and service offerings. The industry-leading MonitorIQ Broadcast Monitoring System from Digital Nirvana is a full-featured monitoring platform incorporating the most advanced capabilities available in an affordable, networked appliance. Digital Nirvana is headquartered in Newark, California and has operations in multiple locations globally.



Further information is available at www.digital-nirvana.com.



For more information, contact:

Robin Hoffman

Pipeline Communications

277 Valley Way

Montclair, NJ 07042

973-746-6970

robinhoffman@pipecomm.com

www.pipecomm.com



Ned Chini

Digital Nirvana

39899 Balentine Drive, Suite 200

Newark, CA 94560

510-226-9000 x707

nedchini@digital-nirvana.com

www.digital-nirvana.com

More from Waste Management & Waste Handling Equipment