Video Inspection System suits tight, dark areas.
Press Release Summary: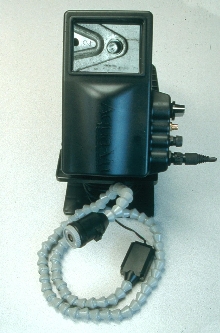 Portable, self-contained Tool-Vu provides thorough pre-job inspections and close scrutiny of completed work in cramped quarters. Miniature CCD camera has built-in on/off infrared light source. Flexible, 30 in. long gooseneck snakes around where user can't see. Adjustable-focus lens allows 10x magnification and small parts inspection. Tool-Vu comes as complete turnkey system. Applications include automotive, construction, electrical, heating, plumbing.
---
Original Press Release:
Tool-Vu - A Solution For Tight Spots

BRAINERD, MN - It's new! Tool-Vu from Nature Vision, Inc. is a portable, self-contained video inspection system for completing difficult job, home, and hobby tasks in tight-squeeze, hard-to-see, and low-light situations.

Most trades experience "can't see" problems in tight places where one's head doesn't fit - on automotive, construction, electrical, heating, plumbing, and many other service jobs. Mirrors might help, but only with adequate lighting. Tool-Vu saves work time and sanity by solving the problem of being unable to see in tight places and dark spaces.

Tool-Vu provides the "eyes" and neck for more thorough pre-job inspections and closer scrutiny of completed work in cramped quarters. Tool-Vu's miniature CCD camera has a built-in on/off infrared light source.

Its 30-inch flexible gooseneck can snake in and around where you can't otherwise see. An adjustable-focus lens allows for l0x magnification and small-parts inspection. Tool-Vu comes as a complete turnkey system.

See our full line of viewing systems at www.naturevisioninc.com