Video HR Training Programs are designed for supervisors.
Press Release Summary: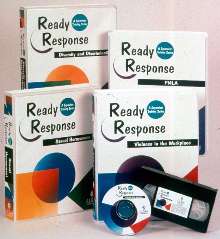 Available on VHS and DVD,
Ready Response
consists of 4 videos that train supervisors to recognize situations that may pose legal risks to organization and respond to situations in order to avoid legal action. Titles include
Diversity and Discrimination
,
FMLA
,
Sexual Harassment
, and
Violence in the Workplace
. Videos use scenarios and questions for active engagement of viewer.
---
Original Press Release:
Keller Intrduces Four Supervisor-Focused Human Resources Traning Programs

Neenah, WI - J. J. Keller & Associates, Inc. has just introduced Ready Response: A Supervisor Training Series, four new video-based training programs designed to help train supervisors on human resources issues.

Each of the four programs covers a topic that has potential liability issues for actions taken, or not taken, when addressing, or not addressing, a situation with an employee. The programs are designed to help supervisors understand how to recognize situations that may pose a legal risk to the organization, and to respond effectively in order to avoid legal action.

Diversity and Discrimination explains how supervisors can engage in activities that prevent discrimination; intervene when problems occur; and handle investigations relating to discrimination claims.

FMLA covers obtaining information from absent employees in order to help supervise determine if the leave qualifies as leave under FMLA.

Sexual Harassment addresses how to help prevent harassment situations by communicating guidelines to employees; how to recognize harassing behavior; and how to appropriately intervene in harassment situations.

Violence in the Workplace helps supervisors understand how to recognize potentially violent situations/individuals and determine how to resolve conflicts that arise in the workplace.

Each program includes a training video (available in VHS or DVD format) that provides background information on the topic and explains why the topic is important to supervisors. The videos also use a series of brief scenarios to demonstrate how to effectively handle situations. As supervisors focus on each scenario, they are asked to think about the situation presented and determine what was correct and incorrect about how it was handled. Active engagement will help supervisors transfer what they learn during training to practical application on the job.

Along with the video, each program includes a trainer's guide that provides training tips and techniques, ready-to-use test sheets for onscreen challenges, and supervisor fact sheets that reinforce how to effectively address the topic.

Ready Response: A Supervisor Training Series is available as a DVD four-pack for $635 (VHS four-pack: $495). The programs are also available separately for $229 each (DVD) and $179 each (VHS). The DVD version offers an additional guidelines section that includes information to help supervisors apply training to their jobs. These programs can be ordered by calling 1-800-327-6868. Callers should reference Action Code 02038 when ordering.

For more information on Keller solutions like this one, call the toll-free number listed above, visit the company's web site at www.jjkeller.com, or e-mail sales@jjkeller.com.

J. J. Keller & Associates, Inc., of Neenah, WI, is a leading specialized publisher and services provider. Founded in 1953, the company offers a wide spectrum of ready-made and custom safety and regulatory compliance products to customers throughout North America. Keller helps customers in industries such as manufacturing, transportation, utility, construction and food processing comply with DOL, OSHA, EPA, DOT, FDA and USDA requirements. The company's diverse product line includes technical publications; computer software; video-based, online and CD-ROM training programs; specialized forms; and supplies.
More from Construction Equipment and Supplies