Video Extensometer features non-contact measurement design.
Press Release Summary: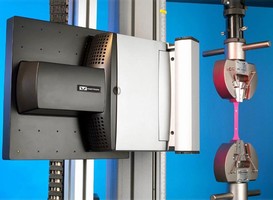 Along with integrated software that facilitates setup and consistent calibration, advanced video extensometer (AVE) uses digital camera and real-time image processing to make strain measurements on material test samples. Non-contact measurement design ensures extensometer has no influence on specimen, eliminating possibility of damage. Solid-state unit is available with 3 fields of view and transverse strain measurement capabilities.
---
Original Press Release:

Instron® Offers its New Advanced Video Extensometer



Fully integrated software provides easy set up and consistent calibration

Instron®, a leading provider of testing equipment designed to evaluate mechanical properties of materials and components, offers its new advanced video extensometer (AVE). This high-performance, non-contacting extensometer meets and exceeds the performance of traditional contacting extensometers. The AVE uses a high-resolution digital camera and advanced real-time image processing to make precise strain measurements on material test samples.

With its unique non-contact measurement design, the extensometer has no influence on the specimen, and the possibility of damage due to energy release at failure is eliminated; thus, ensuring accurate test results. The AVE contains no moving parts, so it is never at risk for mechanical wear, which can lead to unreliable results or inaccurate target tracking.

Available with three fields of view (FOV) and transverse strain measurement, the AVE meets diverse testing requirements and is suitable for testing plastics, metals, elastomers, wire, textiles and other materials. Additionally, the ergonomic design provides operators with convenient access to the test area and allows for easy set up.

About Instron

Instron® is a leading provider of test equipment for the material and structural testing markets. A global company providing single-source convenience, Instron manufactures and services products used to test the mechanical properties and performances of various materials, components and structures in a wide array of environments.

Instron systems evaluate materials ranging from the most fragile filament to advanced high-strength alloys, providing customers with comprehensive solutions for all their research, quality and service-life testing requirements. Additionally, Instron offers a broad range of service capabilities, including assistance with laboratory management, calibration expertise and customer training.

For more information, contact Instron Corporation, 825 University Ave, Norwood, MA 02062, USA. Toll-free: 1-800-564-8378; Fax: 1-781-575-5725; Email: info_news@instron.com or visit our website at pr.instron.com.

More from Agricultural & Farming Products