Video Encoders operate in harsh environments.
Press Release Summary: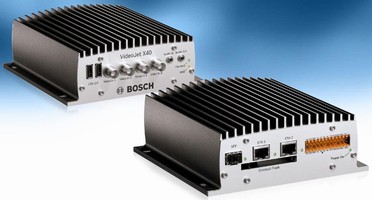 Vibration-resistant VideoJet X10 (single-channel), X20 (2-channel), and X40 (4-channel) extend CCTV over IP coverage into environments with temperatures from -30 to +60°C and up to 95% RH. Operating from 10-30 Vdc, products offer choice of network connectivity with dual 10/100 Mbps Ethernet ports and 1 Gbps SFP optical transceiver slot as well as local and remote recording options. All versions can deliver 4CIF resolution on every video channel.
---
Original Press Release:

VideoJet X Video Encoder Series Expands the Application Areas for Network Based CCTV



Rugged video encoders operate in harsh environments

o Resists extreme temperatures, humidity and vibration
o Covers exposed perimeter locations and transport
o Pushes high-end video analysis to the edge

Bosch's new VideoJet X family of video encoders combines high quality video, intelligence and ruggedness to extend CCTV over IP coverage into the most challenging environments.

The VideoJet X10 (single-channel), X20 (2-channel) and X40 (4-channel) video encoders operate in temperatures from -30 to +60 degrees Celsius and relative humidities up to 95 percent. The units are also highly resistant to vibration, making them well suited for use in heavy industry, traffic and city-center (urban) monitoring as well as for mobile applications. A broad operating voltage range from 10 to 30 V DC means they are also suitable for surveillance of remote areas using battery or solar power.

Complementing its ruggedness, a choice of network connectivity is provided by three network ports: two standard 10/100 Mbps Ethernet ports plus a 1 Gbps small form factor pluggable (SFP) optical transceiver slot. This slot enables the encoders to connect directly to a fiber-optic interface module to provide easy connection to remote locations via fiber-optic cabling: up to 550 m with multimode and up to 100 km with single-mode fiber.

The units also offer several recording options ranging from local recording on RAM, Compact Flash or integrated hard-disk drive to recording on network-attached RAID5 storage unit via iSCSI or a central NVR. The iSCSI RAID5 option offers significant benefits including complete flexibility in location of the iSCSI units on the network, easy network scalability, a simpler and hence more reliable recording chain than with a standard NVR solution, and the possibility to schedule 'over site' mirroring of data onto other iSCSI RAID5 drives to enhance data integrity.

The VideoJet X10 and X20 encoders deliver MPEG-4 Video over IP at a full frame rate of 25 images (PAL) or 30 images (NTSC) per second at 4CIF resolution on every video channel. The VideoJet X40 is capable of providing 4CIF resolution at 12.5/15 images per second or full frame rate of 25 or 30 images per second at 2CIF or 2/3 D1 resolution for every video channel.

In common with the latest versions of Bosch IP network products, the new VideoJet X series includes a licensable option to enable Bosch's IVMD (Intelligent Video Motion Detection). IVMD offers highly advanced video content analysis (VCA) functionality that includes object identification by aspect ratio, idle-object and object-removal detection, and trajectory mapping for detecting suspicious behavior such as loitering. Embedded in the encoders themselves, IVMD provides 'Intelligence at the Edge' which significantly reduces the load on a network by performing all VCA functions at the encoders. Moreover, with image stabilization for use with cameras mounted on a pole or exposed to vibration, IVMD further supports outdoor and mobile applications. The units also provide the highest levels of security with encryption for web browsing security and 802.1x authentication support. These new encoders feature DHCP support for dynamic IP address assignment and an SNTP (Simple Network Time Protocol) server accuracy of 0.25 microseconds for accurate time synchronization. A low-pass video filter is also provided in the latest firmware for use with CCTV cameras that produce noisy signals which can result in undesirable increases in encoding load.

The VideoJet X series is compatible with Bosch's new Video Recording Management (VRM) software. This provides complete management of iSCSI RAID5 storage units including automatically re-routing video to alternative iSCSI units in the event of failure. The new VRM software will also provide smart search functionality for metadata (text strings comprising key words describing specific scenarios) which is sent together with the video footage to the recording medium. Searching metadata files is much faster that searching through hours of raw video and is one of the key advantages of pushing Intelligence to the Edge.

Contact person for readers:
Bosch Security Systems
Marijke Raaijmakers
P.O. 80002
5600 JB Eindhoven
The Netherlands
Phone: +31 40 2577185
Fax: +31 40 2577119
E-mail: marijke.raaijmakers@nl.bosch.com
www.boschsecurity.com

The Bosch Group is a leading global supplier of technology and services. In the areas of automotive and industrial technology, consumer goods, and building technology, some 260,000 associates generated sales of 43.7 billion euros in fiscal 2006. The Bosch Group comprises Robert Bosch GmbH and its roughly 300 subsidiary and regional companies in over 50 countries. This worldwide development, manufacturing, and sales network is the foundation for further growth. Bosch spends more than three billion euros each year for research and development, and in 2006 applied for over 3,000 patents worldwide. The company was set up in Stuttgart in 1886 by Robert Bosch (1861-1942) as "Workshop for Precision Mechanics and Electrical Engineering."

The special ownership structure of Robert Bosch GmbH guarantees the entrepreneurial freedom of the Bosch Group, making it possible for the company to plan over the long term and to undertake significant up-front investments in the safeguarding of its future. Ninety-two percent of the share capital of Robert Bosch GmbH is held by Robert Bosch Stiftung GmbH, a charitable foundation. The majority of voting rights are held by Robert Bosch Industrietreuhand KG, an industrial trust. The entrepreneurial ownership functions are carried out by the trust. The remaining shares are held by the Bosch family and by Robert Bosch GmbH.

Additional information can be accessed at www.bosch.com.

More from Laboratory and Research Supplies and Equipment