Video Digital Multiplexer holds 60 dB signal-to-noise ratio.
Press Release Summary: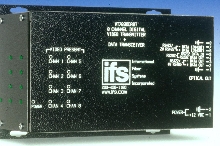 Model VT/VR7830DRDT 8-channel video digital multiplexer with 2 bi-directional data channels provides integration of up to 8 channels of video with PTZ and access control on 1 optical fiber. Signals are transmitted via its 8-bit digital-encoding scheme, which supports NTSC, PAL and SECAM formats. VT/VR7830DRDT transmits real-time color video, and is designed to maintain consistent signal quality up to its maximum optical path loss.
---
Original Press Release:
IFS Introduces Eight-Channel Video Digital Multiplexer with Two Bi-Directional Data Channels

NEWTOWN, CT. November 21, 2001 -International Fiber Systems Incorporated (IFS), a leading manufacturer of fiber optic transmission equipment, has announced the introduction of its VT/VR7800DRDT Series eight-chainel digital video multiplexing equipment with two bi-directional data channels. The VT/VR7830DRDT will be available for wide scale release in Mid-November 2001. This new multiplexer can provide a totally integrated solution for transmitting CCTV and Access Control signals in installations where availability of optical fiber is limited.

The IFS VT/VR7830DRDT multiplexer can transmit up to eight independent video signals by utilizing a state-of-the-art 8-bit digital-encoding scheme and fully supports NTSC. PAL and SECAM formats. Through the use of digital technology, the IFS VT/VR7830DRDT transmits real-time color video with very low video distortion and has a 60dB signal-to-noise ratio (SNR) and is designed to maintain that signal quality consistently up to the maximum optical path loss of the system. The performance of the VT/VR7830DRDT is unprecedented compared to many existing FM modulated analog systems where signal distortion and signal quality degradation is conimnon and increases over distance. Proof of this extremely high video performance is that this product also meets and/or exceeds the industry standard, RS-250C medium-haul video performance specifications.

In addition to transmitting video; the IFS VT/VR7830DRDT offers two bi-directional data channels. While there are currently combination video/data multiplexer products available, such as the IFS VT/VR6010DRDT four-channel multiplexer with data, the addition of a second data channel provides system integrators with a whole new level of cost-effective, integrated transmission solutions for their installations.

Each of the two data channels support the bi-directional transmtission of RS-232, RS-422 and 2 or 4-wire RS-485 (with tri-
state) data interfaces and each data chanmel can support any of these data interfaces independently of each other. The data
channels are also transparent to data protocols, such as Manchester, BI-phase, NRZ and SensornetTM. This allows broad-
range compatibility with major CCTV and Access Control manufactures.

"In talking with our customers, we have found many times they are faced with an installation where there is existing optical
fiber that can be utilized; however, the number of fibers they have access to is limited." said Richard Malstrom. Vice
President of Sales. "This product's capability opens new doors that will maximize the use of the limited fiber that may be
available to them." With this new multiplexer it is now possible to integrate the transmission of multiple systems used for
security and building automation control on one optical fiber. For example, an integrator having the need to t-ansmit eight
CCTV cameras, PTZ control and card access data signals between two buildings could require up to 10 optical fibers. The
VT/VR7830DRDT multiplexer allows the integration and transmission of all of these signals over one optical fiber.
According to Malstrom, "This is a great problem-solving solution for utilizing a company's fiber optic backbone and in cases
where the [T manager may limit the number of fibers allocated for additional systems other than the companies data network."

The VT/VR7830DRDT series requires single-mode fiber and offers an optical loss budget of 17 dB, allowing the transmission of all signals up to 42 miles (69km). A high power unit is also available, the VT/VR7830DRDT-HP with a 20 dB optical loss budget for transmission up to 49 miles (78km). With an operating temperature range of -40 degrees C to +74 degrees C, solid-state current limniters and status indicating LEDs, this multiplexer also meets NEMA TS-I/TS-2 and Caltrans traffic signal control equipment environmental specifications making the VT/VR7830DRDT multiplexer also an ideal choice for Intelligent Transportation Systems (ITS) applications.

The VT/VR7830DRDT is yet another new product in the IFS' line of quality digital fiber optic products. IFS's superior engineering and world-class manufacturing capabilities enables IFS to offer the benefit of digital performance at costs typically associated with analog products and are backed by our industry first Lifetime Warranty.
More from Architectural & Civil Engineering Products