Video/Data Wall Processor is designed for 24/7 operation.
Press Release Summary: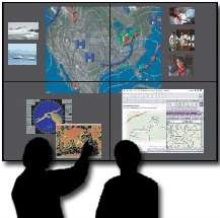 Suited for mission critical operations, MediaWall(TM) 2000 accepts up to 6 graphic and 6 video inputs and displays them simultaneously on up to 4 screens. It supports inputs up to 1920 x 1200 and HDTV with full resolution and real-time performance without dropped frames. Packaged in 2U steel rack enclosure, plug-and-play unit features secure, embedded OS; network-independent operation; and remote, Web browser-accessible control interface.
---
Original Press Release:

RGB Spectrum Announces a New Generation Of Video/Data Wall Processors


April 13, 2005 Alameda, CA - RGB Spectrum, a technology leader in image display for two decades, announces the MediaWall(TM) 2000 to be released April 18, 2005 at the National Association of Broadcasters (NAB) show in Las Vegas, Nevada. The MediaWall 2000 is the first product in a new generation of custom multiscreen display processors RGB Spectrum will deliver in 2005. The MediaWall 2000 surpasses the image quality and capabilities of PC based wall processors in a robust, and easy-to-use product designed for reliable 24/7 mission critical operation.

The MediaWall 2000 accepts up to six graphic and six video inputs and displays them simultaneously across up to four screens with no loss of image quality or image update rate. Addressing the many weaknesses of PC based wall processing, the MediaWall 2000 is a purpose built processor with an embedded operating system. This design overcomes the security, real-time performance, reliability and image quality limitations typical among PC based processors.

The MediaWall 2000 offers true plug and play installation, similar to the simplicity of a matrix switcher with "input" and "output" ports. An advanced, easy to use control interface is accessible remotely using a standard web browser; hence it allows control over the widest variety of computers, regardless of their operating system. The MediaWall 2000 may also be controlled over serial or Ethernet ports and supports industry standard third party control systems. The processor itself does not depend on the network and will continue dependable operation even if the network is down.

Unlike the MediaWall 2000, almost all other videowall processors are built on a PC architecture, offering an all-in-one solution that includes unning applications and networking. While the PC architecture sounds seductive, it is an inherently limited solution with many disadvantages in terms of performance, ease of use, robustness, maintainability, and life cycle cost. These include a nonsecure operating system, usually Windows, PC bandwidth limitations that affect update rate and configuration flexibility, and expensive updates for the CPU. Keeping the display processor separate from an external PC (or PCs) running applications and networking offers a superior solution.

The MediaWall 2000 is packaged in a compact 2U steel rack enclosure, with front replaceable air filters, thermostatically controlled fans, and redundant power supplies. It offers a reliable and robust solution for challenging environments, and even mobile applications.

The MediaWall 2000 supports all inputs up to 1920 x 1200 and HDTV with full resolution and real time performance, without dropped frames, well exceeding the ability of PC based wall processors. In addition, it offers reliability and security beyond the ability of competitive processors. The MediaWall 2000 is designed for mission critical, real time operations in challenging environments. Yet it is priced competitively with systems that cannot approach its robustness or performance.

RGB Spectrum® is a leading designer and manufacturer of videographic and multimedia hardware subsystems. Products include the View(TM) family of video windowing systems, the RGB/Videolink® line of scan converters, the DGy(TM) digital recording system, and SuperWall(TM), ComputerWall® and MediaWall® multi-screen display controllers. RGB Spectrum is based in Alameda, California, and can be reached at 510-814-7000 and on the internet at www.rgb.com.

More from Electronic Components & Devices