Victrex Receives As9100 Certification for Its High Performance, Lightweight Aerospace Tubing Solutions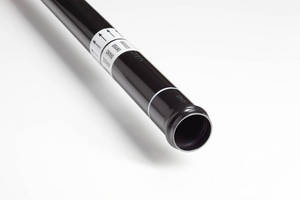 WEST CONSHOHOCKEN, PA  USA – Victrex has successfully obtained the rigorous AS9100C/ISO9001:2008 aerospace certification for its VICTREX Pipes™ production lines. This certification gives the aerospace industry the confidence to specify the robust, lightweight tubing made from VICTREX® PEEK polymer. Today, more than 15,000 aircraft rely on the high performance thermoplastic in demanding applications. By achieving this milestone, the world leader in PEEK polymeric solutions continues to take a proactive approach in providing innovative metal replacement products to help boost the efficiency of today's and tomorrow's aircraft.



With aerospace engineers demanding lighter weight solutions, VICTREX Pipes are an attractive and durable alternative to metal given their ability to provide weight reductions of up to 70%. Based on averages from recent fuel economy studies, replacing one hundred meters of metal tubing with a thermoplastic system made from VICTREX PEEK can deliver up to $3,300 in annual fuel cost savings as well as to reduce CO2 emissions by 11 tons per plane. In addition to being lightweight, VICTREX Pipes inherit the benefit of the base polymer of being non-corrosive, which helps the aerospace industry to reduce maintenance costs. High performance over a broad temperature range and excellent fire/smoke/toxicity performance are additional properties that qualify VICTREX PEEK for the aerospace industry.



The international AS9100 standard Victrex obtained was especially designed for the aerospace industry. It requires Victrex to have a quality management system in place to consistently provide products that meet customer and applicable legal and regulatory requirements. Secondly, the standard specifies that the quality management system must establish processes for continuous improvements and ongoing conformity to regulatory requirements in order to provide products that satisfy the needs of aerospace customers. Frank Schemm, VICTREX Pipes Aerospace Market Manager, stated that "all industries we serve benefit from our quality management system and established processes that focus on continuously improving our manufacturing capabilities and products. Being able to provide the highest quality, lightweight products helps manufacturers develop confidence in sustainable solutions enabled by Victrex and its products."



"While Victrex offers straight tubing solutions for demanding aerospace applications, we continue to collaborate with industry-leading companies to develop bent, flared, and jointed systems to fit the spacing requirements of various aircraft platforms," explains Schemm. VICTREX Pipes give engineers the opportunity to create smarter designs to help make the installation process easier for the assembly teams. This has become extremely important particularly with the large backlog of orders that manufacturers have and their need to get aircraft off the assembly line faster. To handle rising demands for new aircraft, it is equally important that Victrex is able to offer stability and security along the entire supply chain.



With 35 years of experience in delivering the highest performing products to demanding industries including aerospace, Victrex will continue to work with leading OEMs and tier suppliers to specify VICTREX Pipes and other VICTREX PEEK material solutions to enhance the efficiency of next generation aircraft. To learn more about VICTREX Pipes for the aerospace industry, please visit www.victrexpipes.com.



More from Cleaning Products & Equipment