Vibratory Screeners sort materials as fine as 200 microns.
Press Release Summary: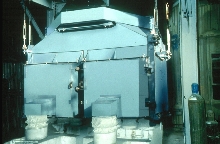 MEGATEX(TM) 100 Series is for screening sand, salt, soybeans, rice, limestone, potash, slate, plastic pellets, roofing granules, and urea. They are available in two sizes and two configurations: M2120 model has 120 sq ft of total screen area while three-deck M3180 model has 180 sq ft of total screen area. MG configuration, for applications as fine as 850 microns, handles capacities of 200 to 500 tons/hour. MA configuration is for high capacity screening as fine as 200 microns.
---
Original Press Release:
MEGATEX(TM) 100 Series Screeners Round Out ROTEX Product Line

CINCINNATI, OH (April 18, 2002) - The MEGATEX(TM) 100 Series Screeners, available in two sizes, round out the Rotex screener product line, bridging the gap between the largest ROTEX(R) screener and the former smallest MEGATEX unit.

The two-deck MEGATEX M2120 model features 120 sq ft of total screen area while the three-deck MEGATEX M3180 model offers 180 sq ft of total screen area.

Both models in the 100 Series are high capacity solutions for effectively screening high volumes of materials that would require multiple conventional screeners. The M2120 and M3180 are ideal for screening sand, salt, soybeans, rice, limestone, potash, slate, plastic pellets, SAP, blended fertilizer, roofing granules and urea.

Both are available in MEGATEX MG and MA configurations. The MG configuration, for applications as fine as 850 microns, handles capacities of 200-500 tons/hour for inland and export grain terminals and up to 200 tons/hour for fertilizer, processing and loadout.

The MA configuration, designed for high capacity, fine process screening as fine as 200 microns, has a unique lift rail system for positive sealing to prevent cross-contamination within the screener. It also features auto-tensioning screen decks for constant screen tensioning and quick screen changeout.

MEGATEX 100 Series Screeners provide efficient, accurate separations at production rates greater than other large capacity screening options. With a compact 10' x 10' x 12' footprint, they can do the job of multiple conventional screeners, thus reducing capital outlay and saving considerable installation, operation and floor space costs.

Both models are equipped with full-width, hinged doors for easy access to all levels and screen decks, which are conveniently sized for easy removal and handling by two workers.

MEGATEX Screeners achieve greater productivity through two significant design features: a wide screening surface and a long-stroke, gyratory motion.

Expansion of the total screen area is key to increased screener capacity - but all screen area is not equally productive. Utilizing a screen surface that is wider, rather than longer, reduces material bed depth, and this enables MEGATEX Screeners to handle increased capacity while maintaining screening accuracy. Increased screen width expands capacity more effectively than increased screen length. MEGATEX achieves a high width of screen area through a unique multi-level screen deck arrangement.

The second design feature, MEGATEX's long stroke, low frequency drive, creates a force level that serves two important functions. First, the motion effectively spreads the material across the full width of the distribution panel, proportionally feeding each of the screen levels and eliminating the need for multiple feed points. Second, the long stroke and low frequency motion stratifies the material on the screen mesh to achieve high screening accuracy. In addition, the motion produces effective ball mesh cleaning to control binding and provide long-term, uninterrupted operation.

The low frequency, gyratory screening also produces extremely low noise levels, far lower than those produced by vibratory screeners, and well within the comfort zone.

ROTEX INC. engineers and manufactures a full line of screening equipment including ROTEX(R) Screeners and high capacity MEGATEX(TM) Screeners for particle size separation of grains, minerals, plastics and other dry solids; GRADEX(TM) Particle Size Analyzers; and LIQUATEX(TM) Liquid/Solid Separators. The company serves a global market in such industries as chemical processing, food processing, mineral processing, plastics compounding and agribusiness. ROTEX-xpress offers a full range of parts and rebuild services available through ROTEX headquarters in Cincinnati, OH.

For more information about how the new MEGATEX 100 Series Screeners can solve your high volume screening challenges, contact ROTEX INC., 1230 Knowlton St., Cincinnati, OH 45223, www.rotex.com, (800) 453-2321, Fax (513) 346-5454, e-mail info@rotex.com.
More from Fluid & Gas Flow Equipment