Vibratory Plate Compactors work with granular soil.
Press Release Summary: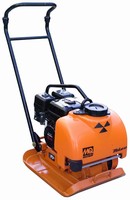 With centrifugal force of 2,925 lb, MVC-80 Series is comprised of 4 models suited for compacting soils and asphalt. Each model employs anti-vibration handle system that helps minimize operator fatigue. At maximum speed, series compacts up to 72 ft of material per minute. Forward plate compactors are fitted with 17 x 22 in. steel base plate, offer 5.7 hp Honda or 5.5 hp Robin gasoline engines, and have exciter speeds of 5,580 rpm.
---
Original Press Release:

Less Rock, More Roll with These New Compactors



Multiquip's new plate compactors make life easy on the operator.

The MVC-80 Series vibratory plate compactors reduce vibration by 50 percent when compared to predecessor models, courtesy of an innovative new anti-vibration handle system (AVS). This new handle design significantly reduces operator fatigue while boosting productivity.

With centrifugal force of 2,925 pounds (1,356 kilograms), the economically priced MVC-80s are ideally suited to compacting granular soils and asphalt. At maximum speed, the unit can compact up to 72 feet (22 meters) of material per minute.

These forward plate compactors are offered with 5.7-horsepower Honda and 5.5-horsepower Robin gasoline engines and have exciter speeds of 5,580 rpm. The MVC-80 Series is fitted with a long-lasting and easy to clean 17 x 22-inch (45 x 57 centimeters) steel base plate.

Other standard features include a 13.7-quart (13 liters) plastic water tank that is easy to remove and requires no plumbing or installation and a lifting bale for pick-up eliminating the need to use a lifting strap or hook-up. In addition, large handles allow two people to quickly lift the unit into a truck and an enclosed, sturdy steel belt cover provides added durability while preventing material from becoming trapped inside the guard.

The four models in the MVC-80 Series range in weight from 177 to 180 pounds (79½ to 81 kg.).

Multiquip Inc. is a leading supplier of compaction equipment, welders, generators, concrete and masonry cutting, placing and finishing products, dewatering pumps, and other construction equipment. World headquarters are located at 18910 Wilmington Ave., Carson, California, USA 90746. For more information, call 800/421-1244 or visit www.multiquip.com

More from Material Handling & Storage