Vibratory Feeders and Conveyors transport bulk materials.
Press Release Summary: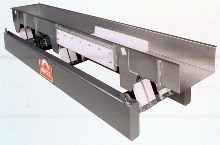 Model HVF 2-mass vibrating feeder delivers flow rates to 100 fpm. With single-mass design, SM Conveyor moves loads of free-flowing materials up to 50 lb/ft³ at rates to 25 ft³/min. Tuned 2-Mass Model(TM) mechanical conveyor has 75 lb/ft³ and 35 ft³/min capacities, while Model HVC moves bulk materials up to 100 lb/ft³ at rates to 60 ft³/min. VMC Series Electromagnetic Conveyor has no sliding or rotating parts, no belts or bearings, and offers 60 fpm flow rate.
---
Original Press Release:

New and Improved Vibratory Feeders and Conveyors from Eriez Magnetics Transport Bulk Materials Efficiently and Economically


ERIE. PA- High capacity, rugged Vibratory Feeders and Conveyers from Eriez provide a cost-effective, extremely efficient solution for moving large volumes of bulk materials in a controlled manner.

The new Model HVF-High-Volume Feeder is a two-mass vibrating system, spring coupled and excited by a motor-driven eccentric shaft. Adjustable-angle rubber springs transmit the exciting force and can "fine tune" the motion of the trough to optimize the flow rate for a specific application. The Model HVF has flow rates up to 100 ft/minute (30mpm).

Eriez' Mechanical Conveyors have a compact, straight-line design and can handle a range of duty types. Eriez' SM Conveyor has a single-mass design that moves light loads of free-flowing materials with a capacity of up to 25 cubic feet (.7 m³) per minute of materials up to 50 pounds per cubic foot (800 kg/m³). It features energy-saving low horsepower operation. The Eriez Tuned Two-Mass Model TM mechanical conveyor is designed for light- to medium-duty applications. It has a capacity of up to 35 cubic feet (1 m³) per minute of materials up to 75 pounds per cubic foot (1200 kg/m³). Available options allow the user to precisely control flow rate. Eriez' Model HVC, their most rugged medium- to heavy-duty conveyor, moves high volumes of bulk materials over long distances. It has a capacity of up to 60 cubic feet (.8m³) per minute of materials up to 100 pounds per cubic foot (1600 kg/m³). Accurate control or the flow rate is achieved by simply varying the motor speed.

The VMC Series Electromagnetic Conveyor combines Eriez' years of experience as a world leader in magnetics with the latest in solid-state control technology. The VMC Series Electromagnetic Conveyor is a two-mass vibrating system, spring coupled, powered by one or more unique electromagnetic drive circuits. It has no sliding or rotating parts, no belts or bearings to fail and a reduced noise level (below 65 dBA). The VMC Series has a flow rate of up to 60 feet per minute.

All Eriez feeders and conveyors feature extremely low profiles and require minimum headroom for installation. Most can be designed for either suspended or base mounting. Eriez offers a variety of trough sizes and types to match the feeder or conveyor to the specific application requirement. Trough liners of abrasion-resistant steel, stainless steel, polyethylene, rubber or other materials are available as well. Sanitary construction is an option for all Eriez conveyors. Eriez products are designed for easy maintenance.

Eriez is recognized as world authority in advanced technology for magnetic, vibratory and metal detection applications. The company's magnetic lift and separation, metal detection, materials feeding, screening, conveying and controlling equipment have application in the process, metalworking, packaging, recycling, mining, aggregate, and textile industries. Eriez manufactures and markets these products through nine international facilities located on five continents. To receive Eriez' VB-3650 brochure on Vibratory Feeders and Conveyors, call toll-free in the U.S. and Canada at (888) 333-(ERIEZ) 3743 or (814) 835-6000. For online visitors, download a pdf at www.eriez.com or send Email to [email protected]