Vibratory Feeder Controller and Line Reactor reduce downtime.
Press Release Summary: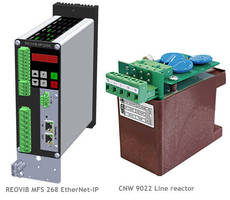 Used together or as stand-alone products, REOVIB MFS 268 EtherNet-IP variable-frequency regulator series and CNW 9022 Line Reactor let vibratory feeder users integrate office and lab areas with production operations; enable remote feeder system monitoring/adjustments from one control center; and solve power quality problems. REOVIB MFS 268 is available with DeviceNet, PROFIBUS-DP, or RS232 interfaces, and CNW 9022 provides built-in surge protection to deal with industry-pervasive issues.
---
Original Press Release:
New REO-USA EtherNet-IP Vibratory Feeder Controller and Line Reactor can Cut Downtime, Boost Power Quality
INDIANAPOLIS — Two new products announced by REO-USA today allow vibratory feeder users to easily integrate office and lab areas with production operations, enable remote feeder system monitoring and adjustments from a single control center, and can also solve power quality problems that pervade the industry. The REOVIB MFS 268 EtherNet-IP variable-frequency regulator series and CNW 9022 Line Reactor are ideal companions or stand-alone products. 

Available with DeviceNet, PROFIBUS-DP or RS232 interfaces, the REOVIB MFS 268 brings new dimensions to vibratory feeder system integration and efficiency with its EtherNet-IP interface.

"We are one of the first in the industry to integrate EtherNet-IP into a vibratory controller," says Rick Jones, Senior Director of Engineering for the Indianapolis, Indiana-based company.  "Ethernet is the most commonly used interface in offices, laboratories and other company operations today.  It makes sense to have filling line vibratory systems on the same wave length, so to speak."

Whether moving nuts and bolts, food products, pharmaceuticals, snacks or other items, Jones points out the REOVIB MFS 268 EtherNet-IP option offers multiple advantages.

"Our new controller gives users the ability to make changes on the floor from a central control area. There is no need to visit feeders and make adjustments; monitoring and altering can be done remotely.  You can see how feeder controllers are functioning throughout the plant, if they're running efficiently or if there are any errors.  If a problem occurs in the network, you can catch it immediately and correct it quickly without leaving the control center."

REOVIB MFS 268 EtherNet-IP output frequencies range from 5 to 300 Hz and can be adjusted to within 0.1 Hz.  Furthermore, the unit's variable-frequency capabilities eliminate tons of manual tuning time, freeing users from the tedium of adding springs or weights or employing other techniques to get feeders to readily vibrate at the proper rate.

"Even if it is not tuned exactly to an industrial frequency, you can remotely tune the feeder to within 1/10th Hz of its resonant frequency," Jones says.  "Our EtherNet-IP controller has a closed loop feedback system that monitors resonant frequencies and makes tuning a breeze.  You simply run an automatic optimum frequency search, it zeros-in on the ideal frequency and dials it into the controller, automatically and all done from the control room.  Then you merely have to adjust the output voltage (also remotely) and the feed rate you wish to achieve.

"In short, there are many functions integrated into this controller that used to require an external PLC, relays other peripheral components, with less sophisticated systems.  Due to these added features, setup and additional costs are greatly reduced while using the   REOVIB MFS 268 Ethernet-IP."

From snack-production ovens to pharmaceutical clean rooms – an ideal solution

"The benefits of this controller are amplified in pharmaceutical or other clean room operations," Jones adds. "You don't have to put on a white suit or otherwise gear up to go in and make adjustments. All can be handled from the control center.  Another application where our controller truly excels is with conveyors moving snacks through an oven.  The unit is highly reliable and offers consistent output to ensure smooth product flow.  In turn, it impacts product texture, taste, eye appeal and ultimately, consistent quality that is so critical in the consumer marketplace."

The new EtherNet-IP controller runs quiet and provides gentle handling of products being manufactured thanks to sinusoidal output current.  An output current limit setting protects the controller from potential damage.

CNW 9022 Line Reactor with surge protection combats pervasive industry issues

Jones said an ideal teammate for the variable-frequency REOVIB MFS 268 EtherNet-IP controller is REO-USA's new CNW 9022 line reactor series with built-in surge protection. 

"We're recommending that users install this filter with the controller.  Current spikes have historically been a common problem throughout the vibratory feeder industry.  Power surges from other equipment operating from the main power supply – a motor or air conditioner or a high-frequency welder, for example – can cause nuisance tripping which requires someone to go out and replace a fuse or trip a circuit breaker.  Harsh spikes can also cause errors on the line, or premature equipment failure.

"The CNW 9022 filter is specifically designed for use with vibratory feeder controllers.  It reduces distortion from the main power supply to smooth out controller input current, thus maintaining consistent, uninterrupted feeder operation while helping to extend equipment life."

Jones notes three CNW 9022 line reactor options – 16, 10 and 6 amps – highlight another plus with the REO-USA variable-frequency EtherNet-IP controller.

"In most cases, the output current is triple that of the input so when you're sizing a circuit breaker or fuse or wiring, you can go with smaller, less expensive equipment on the front end.  In the case of CNW 9022 line reactors, if your EtherNet-IP controller is 8 amps, for instance, you can use a 6-amp filter."

"Our company has been in the feeder business for 30 years," concludes Jones.  "Among many innovations we have brought to the industry, the new EtherNet-IP controller may be the most significant advance to-date.  Whether your operation uses conveyors, bowls or other feeder types, the REOVIB MFS 268 EtherNet-IP provides a highly functional, efficient, sophisticated solution."
More from Machinery & Machining Tools