Vibration Monitor is suited for rotating machinery.
Press Release Summary: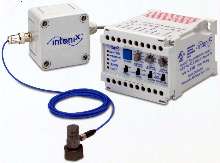 Able to learn and store up to 5 signatures, Charge-Mode Accelerometer Monitor (CMAM) detects/evaluates changes in vibration spectrum of equipment and processes and announces problems as they develop. It can also shut down equipment to prevent breakdowns. Technology is based on 96-band digital signal analysis, and settings for sensing deviation from signatures can be set from 1-20 dB. Temperature operating range is up to 500°F.
---
Original Press Release:

Early Warning of Equipment Problems Saves Downtime.


Introducing the User Friendly Intonix(TM) CMAM Machinery Vibration Monitor

Roseville, MN. - Intonix Corporation, The Listening Company, introduced its rugged, cost-effective Charge-Mode Accelerometer Monitor (CMAM). The CMAM uses an advanced design for sensitive detection of changes in the vibration spectrum of key equipment and processes, even in harsh, limited access locations.

The CMAM detects, evaluates and announces vibration problems as they develop. It alerts operators to problems; or in cases of extreme changes in equipment vibration, the CMAM shuts down equipment, preventing catastrophic breakdowns, costly repairs and downtime.

The Machinery Vibration Monitor is ideal for rotating machinery such as motors, generators, fans, compressors, pumps, engines, turbines and gearboxes. It also is effective at monitoring non-rotating equipment, such as flow processes and transportation systems. And the CMAM can be used to provide unique solutions to unusual monitoring problems.

The Intonix CMAM machinery vibration monitor has the ability to learn and store up to five signatures, which may be selected for reference in different operating modes. Learning occurs in minutes, hours or days as required, allowing inclusion of a range of operational vibration parameters.

The Machinery Vibration Monitor's technology is based on 96-band digital signal analysis. During active monitoring, the spectrum values are continuously updated and compared with previously learned and stored signature values for normal operation.

The monitor can detect subtle incremental changes in equipment vibration. Settings, for sensing deviation from the signature, can be set as low as 1dB or as high as 20dB. Changes in the active signal beyond the set level, within any frequency band, are sensed and output as relay closures. An adjustable response delay time can be applied.

The CMAM is industrial grade, easy to install and very simple to use. It monitors equipment and processes 24 hours a day, 7 days a week. Warnings and alarms can be fed to local alarms, a stand-alone computer station or a SCADA system. It also provides oscilloscope outputs for observing and saving spectrum data.

"The low cost and high-tech CMAM is a breakthrough for downtime prevention strategy", says Derrick Alcock, Intonix's national sales and marketing manager. "Because breakdowns are so costly, failure prevention or improved up-time strategies help maintain cutting edge efficiencies. The monitor provides savings over costly, routine, manual data collection."

The CMAM is available in multi-input versions to allow time-sharing for up to five inputs. It utilizes a charge-mode accelerometer with a temperature operating range up to 500 degrees Fahrenheit (260 degrees Celsius).

Intonix is a Horton Holding, Inc. company based in Roseville, MN, USA. Intonix manufactures acoustic and vibration monitoring technologies for critical equipment or processes. For additional information regarding Intonix and the Machinery Vibration Monitor, or to locate a distributor, call 651-361-6000 or visit www.intonix.com.

Intonix Corporation
2565 Walnut Street
Roseville, MN 55113
Phone: 651-361-6000
Fax: 651-361-6050
www.intonix.com

More from Material Processing