Vibration Meter checks overall health of equipment.
Press Release Summary: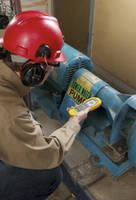 Offering portable, multifunction vibration screening tool, Fluke® 805 FC provides quantifiable information on bearing and overall health of motors and other rotating equipment. Handheld unit measures overall vibration from 10–1,000 Hz and provides 4-level severity assessment. By automatically saving vibration data wirelessly to Fluke Connect™ cloud storage, meter lets authorized team members view measurement data on mobile device via Fluke Connect app.
---
Original Press Release:

New Fluke 805 FC Vibration Meter is the Latest Addition to Fluke Connect - the World's Largest Wireless System of Test and Measurement Tools



The 805 FC delivers best-in-class repeatability, accuracy for checking the overall health of motors and other rotating equipment, and shares measurements with team members in real time



EVERETT, Wash. -- Fluke Corp. introduces the Fluke(®) 805 FC Vibration Meter, a portable multifunction vibration screening tool that provides quantifiable information on the bearing and overall health of motors and other rotating equipment, and shares that data in real time via Fluke Connect(TM). The Fluke 805 FC is ideal for frontline mechanical troubleshooting teams that need reliable and repeatable measurements of rotating equipment to make imperative go/no-go maintenance decisions.



Vibration screening is a critical part of motor maintenance and trending measurement data over time provides invaluable insight into long-term motor health. The 805 FC automatically saves vibration data wirelessly to Fluke Connect cloud storage so authorized team members can view all of the measurement data for each asset with the Fluke Connect app on their mobile devices before they leave the inspection site.



With EquipmentLog(TM) technicians and managers can get all of their measurement data in one place to get the complete asset story. EquipmentLog history allows technicians to assign measurements to specific equipment, creating a cloud-based history of all test measurement data (e.g. vibration, electrical, infrared images) for easy access during both troubleshooting and reliability maintenance.



Technicians can also share measurements with other team members in real time with ShareLive(TM) video calls to get approvals for repairs or get questions answered without leaving the field.



The handheld Fluke 805 FC measures overall vibration from 10 to 1,000 Hz and provides a four-level severity assessment for overall vibration and bearing condition. It detects peaks in the vibration signal readings of roller bearings from 4,000 Hz to 20,000 Hz, and uses a proprietary algorithm to interpret severity to determine if the bearing is going bad. And it features an infrared sensor that automatically measures surface temperature and displays it along with the vibration reading for a broader understanding of machine health.



The 805 FC has a unique sensor tip design that minimizes measurement variations caused by device angle or contact pressure. This reduces operator error and improves the accuracy and repeatability of quick vibration screening. The meter also provides a severity scale for both overall vibration and bearing condition readings, delivering more information than typical vibration pens.



Fluke Connect System

The 805 FC, along with more than 20 other Fluke tools, are part of the Fluke Connect system -- the world's largest portfolio of connected tools. It allows technicians to make better and faster decisions by having access to maintenance records wherever they are working. The Fluke Connect app can be downloaded for free from the Apple App Store and the Google Play Store.



For more information on the Fluke 805 FC Vibration Meter visit: www.fluke.com/805FC.



For information on Fluke tools and applications, or to find the location of your nearest distributor, contact Fluke Corporation, P.O. Box 9090, Everett, WA USA 98206, call (800) 44-FLUKE (800-443-5853), fax (425) 446-5116, e-mail fluke-info@fluke.com or visit the Fluke Web site at http://www.fluke.com.



About Fluke

Founded in 1948, Fluke Corporation is the world leader in compact, professional electronic test tools. Fluke customers are technicians, engineers, electricians, and metrologists who install, troubleshoot and manage industrial, electrical and electronic equipment and calibration processes.



Fluke is a registered trademark of Fluke Corporation. The names of actual companies and products mentioned herein may be the trademarks of their respective owners. For more information, visit the Fluke website.



For more information:

Leah Friberg

Public Relations Manager

(425) 446-5905

leah.friberg@fluke.com

More from Chemicals & Gases