Vibrating Wire Data Logger Offers Flexible Connection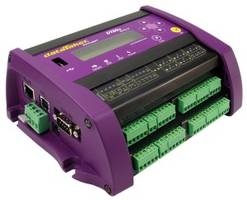 DT80G Strain Gauge Data Logger from dataTaker
Need a device for a geotechnical application? The DT80G GeoLogger from dataTaker is ideal for all geotechnical data logging applications. These universal loggers have built-in support for vibrating wire sensors including Geokon, RST Instruments, slope indicators, soil instruments and more. They provide the ideal data acquisition and monitoring solution for engineers working in geotechnical environments.
The Geotechnical Logger:
5 to 15 Universal Analog Sensor Channels
Vibrating Wire Strain Gauge Support
±30 V Input Measurement Range
12 Digital Channels
Serial Sensor Channel
Built-in Display
USB Memory Slot for Easy Data Transfer
Ethernet, USB, or RS-232 Communication with PC
SDI-12 and Modbus Sensor Support
Modem Support for Remote Monitoring and Control
Easy-to-use, Configurable, Windows-based Software
Stand-alone and Real-time Data Acquisition
The Series 3 dataTaker GeoLogger can monitor a wide variety of geotechnical data logging applications including slope stability, subsidence, dam wall monitoring, mining excavation, ground water, site assessment and more. For example, users can connect extensometer sensors along a tunnel wall to take stress-strain measurements using vibrating-wire transducers.
The advanced dataTaker DT80G range Geologgers work with all major brands of geotechnical sensors including Extensometers, Piezometers, Inclinometers, Strain gauges, Pressure cells, Crack meters, Tilt meters and also support Carlson, Electrolevel and LVDT devices. The low-cost, low-power dataTaker DT80G is extremely versatile and easy to configure. Users can view the data in real time or store up to five million data points.
The dataTaker DT80G has five analog channels capable of measuring up to 5 vibrating wire strain gauges with thermistors or 15 vibrating wire strain gauges without thermistors. If additional channels are required, the dataTaker DT85G has 16/48 vibrating wire channels. For further expansion, the DT85G GeoLogger and/or Channel expansion modules (CEMs) can provide 100 to 300 vibrating wire channels with thermistors.
10 dataTaker Capabilities:
Ability to measure most types of sensors using only one device
Local alarm outputs to notify operators or to trigger other equipment
Ability to trigger actions from external events
Multiple sample rates accommodate different project needs
Future expandability for new projects
Remote notification/alarms via email or text message
Local statistics for min, max, average, etc.
Built-in math functions for calculation of derived values
Automated data upload to backend systems
Large local data storage for stand-alone operation
Built-In dEX Software
dEX is an intuitive graphical interface that allows you to configure your data logger, view real-time data in mimics, create charts and tables, and retrieve historical data for analysis. You can use any of the logger's built-in communications ports to view dEX including Ethernet, USB and RS-232.
Testimonials
Our customers explain the appeal of their dataTakers:
"We decided on the DT80G model because of its ease of use in configuration and the flexibility in connectivity-with the dataTakers we don't have to buy any additional modules or equipment. That's extremely cost-effective for us."
"It's easy to move and transport our dataTakers given the compact design, and they have many features all integrated into the one unit. Now we can use all our sensors and monitor all parameters using just the geologger, which also connects with our modems for remote monitoring."
The Data Logger Experts
Think you've got a unique application? Then give CAS DataLoggers a call at 1-800-956-4437 and our knowledgeable Applications Engineers can help you select the best data logger for your project.
For more information on the DT80G Geotechnical Data Logger, or to find the ideal solution for your application-specific needs, contact a CAS DataLoggers Applications Specialist at (800) 956-4437.
CAS Dataloggers
8437 Mayfield Rd.
Chesterland, OH 44026
440-729-2570
Stew Thompson
Marketing Specialist
More from Architectural & Civil Engineering Products