Automated Storage/Retrieval Systems (AS/RS)
Viastore Systems, Inc. Wins Large Scale SRM Project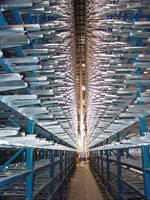 GRAND RAPIDS, MICHIGAN - June 2009 - Viastore Systems, a leading automated material handling provider, has won a large scale viaspeed storage retrieval machine order.

viastore systems, Inc. has won a large-scale order from Retrotech, Inc., who designed the system and developed the order fulfillment software for U.S. food company Cargill. viastore assisted in designing the system which includes 15 viaspeed storage & retrieval machines with a load handling device that can handle two boxes at a time for Cargill's new logistics center in Schuyler, Nebraska, having a storage capacity of about 50,000 cartons. The viaspeed SRM will take over the goods handling in combination with the conveyor and sorting systems which were also supplied by viastore. The facility is scheduled to go live at the end of February 2010.

Cargill is a leading processor and distributor of fresh beef, pork and turkey, plus cooked and marinated meats. The company represents more than a dozen major U.S. brands that are sold in both retail and foodservice channels. viastore provided a similar system to Retrotech for Cargill in Friona, Texas, in 2004.

Retrotech, Inc. - founded in 1985, is a privately owned engineering firm located in the Finger Lakes region of upstate New York. The company specializes in automated pallet handling systems and AS/RS retrofit services. Their personalized approach provides their clients with a complete quality automated solution that directly improves day-to-day warehousing distribution, lowers facility capital costs, and provides an excellent return on investment (ROI). Customer dedication, innovative products, and quality product support help them rise above their competition.

viastore systems, Inc. - viastore systems is a leading manufacturer of Automated Storage Retrieval Systems (AS/RS), Conveyor Systems and WMS Software Solutions. Located in a modern 90,000 sq. ft. facility in Grand Rapids, MI viastore systems, Inc. works closely with each client to develop full material handling system solutions utilizing one or many of our expanded capabilities: AS/RS manufacture and integration, conveyor system design and integration, control system design and upgrade, custom software design and integration, robotic systems, retrofits and refurbishments, and custom design and manufacture of special equipment.

viastore systems' capabilities have grown as their clients needs have grown. North American clients include Cargill Meat Solutions, Continental Teves NA, Gordon Food Service, L'Oreal USA, Frito Lay Corporation, Robert Bosch Corporation, Wilsonart International, Ford Motor Corporation, Schwan Food Company, Nestle USA, Boscov's Department Store, Trane Corporation, Smithfield Beef, Steelcase, and Wolverine World Wide.

viastore systems has developed and manufactured all types of Storage/Retrieval (S/R) machines as one of it's primary product lines since 1970. Today, viastore systems is an international corporation with manufacturing facilities in Germany and the United States and subsidiaries in France, the Netherlands, the United Kingdom, Spain, and the Czech Republic.

For more information regarding viastore systems, its products or services, call (616) 977-3950 or visit our website at www.us.viastore.com.

viastore systems

4890 Kendrick Street SE

Grand Rapids

MI 49512

Contact:

Amanda Bongard

viastore systems, Inc.

More from Communication Systems & Equipment