VFS: "Wear" Economics Matter!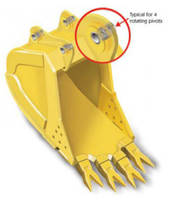 More than ever, companies are hard-pressed to find ways to save money in both manufacturing and repair settings. One such way is to use wear parts at pivot points, specifically Tension Bushings manufactured by VFS (Vogelsang Fastener Solutions). Tension Bushings are hollow cylinders with a full-length longitudinal slot ("wavy" or straight), permitting compression and expansion. They protect the structure of low RPM, and low-high impact locations where a shaft is rotating.



VFS Tension Bushings are an excellent cost-saving alternative to solid bushings and can increase the amount of "wear time" between changing existing bushings. Installation is easy in both manufacturing environments and replacements in the field with minimal tools. Chamfers help facilitate pressing these wear parts into a bore without causing damage to the surface of the bore or shaft to which they are fitted.



Vogelsang Fastener Solutions offers same-day shipment on a large variety of sizes in both "wavy" and straight lot designs through their Quick Ship (QS), stocking program. Outer diameters (OD's) from 3-4" to 3 1-2", and up to 3" in length are available from stock. OD's from 4" to 5" are available for special order, as are Tension Bushings needing holes and/or grooves.



For more information or to order, call 800-526-2376, email sales@vogelsangfastener.com or visit www.VogelsangFastener.com.



Vogelsang Fastener Solutions, Inc. (VFS) is a world-wide leading manufacturer of formed metal parts and one of the world's largest producers of Rollpins®, Coiled Spring Pins, Tension Bushings, Spacers, Compression Limiters and Precision Ground Hollow Alignment Dowels. VFS's extensive product lines are available in both Inch and Metric with a variety of materials available.



VFS is located in Lakewood, NJ and is a German owned, private company with manufacturing facilities in New Jersey, Kentucky, Germany, Czech Republic, and France. Designers and engineers here in the U.S. and across the globe have long recognized the high level of VFS's metal forming technology. VFS prides itself on also being a solution provider, and has provided customers with a variety of specialty engineered applications.



VFS offers an extensive same-day shipment program (Quick Ship) for thousands of stock products.  This economical and convenient program offers same-day shipment on VFS's most popular Rollpins®, Slotted Tension Pins, Coiled Tension Pins and Tension Bushings in Inch and Metric. Over 1,200+ SKUs pre-packaged ready for same-day shipment... at the most competitive prices, with no additional charges or handling fees and may be dropped shipped as well.



©Vogelsang Fastener Solutions, Inc.

"ROLLPIN®" is a registered trademark of Vogelsang Fastener Solutions, Inc.





More from Computer Hardware & Peripherals