VF Camera is customized to meet application needs.
Press Release Summary: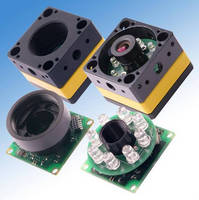 Featuring Mini-B USB2.0 and Micro USB3.0 interfaces as well as Sony ICX445 CCD sensor-based camera, Visiosens flexible and customizable image capture platform provides single software interface for all cameras in all applications. Platform includes CMOS and CCD image sensors as well as various output interfaces, assembly concepts, mounts, filters, and optional LED ring with 7 wavelength options. User and system interface is built on unified, cross-platform SDK based on .NET technology.
---
Original Press Release:

FRAMOS Announces Visiosens Latest VF Camera Platform Customised for High-Tech Industries



...with USB3.0 super-speed interface and Sony's ICX445 CCD sensor-based camera

Camberley, UK - Image processing specialist FRAMOS, announces the new Visiosens VF camera series - a highly flexible and customisable image capture platform with more than 140 camera variants per image sensor. Its new key features include the Mini-B USB2.0 and the latest Micro USB3.0 super-speed interface with up to 5 Gbps as well as the latest Sony ICX445 CCD sensor-based camera.

The Visiosens platform concept provides a single highly sophisticated software interface for all your cameras in all your applications, including specifically customised devices. The platform comprises a growing number of image sensors, a variety of output interfaces, complementary assembly concepts, mounts, filters and an optional LED ring with seven wavelength options. For all variants, the user and system interface is built on a unified, future-proof, cross-platform software development kit based on the latest .NET technology and compatible with Windows and Linux.

The extremely robust camera housing is specifically designed for industrial systems as well as for microscopy. It offers multiple mounting options on each side and the front face, which are all symmetrical to the optical axis of the sensor.

A choice of C-, CS- or M12-mount options are available for all models. The optional LED ring, integrated in the housing and connected to the 8-pin I/O port, with 3 IN and 3 OUT ports saves money and space.

The VF-Series offers a wide range of cameras designed for industrial applications, equipped with a growing range of both CCD and CMOS sensors of various resolutions from VGA (0.4) up to 10 Mega-pixels.

The system design and production process is optimised for the variety of options and ensures especially short delivery times at an outstanding price-performance ratio. This enables maximum flexibility for customer-specific developments.

The single-board design for the USB2.0 and the dual-board design with native USB3.0 chipset both enjoy fully owned USB2.0 and USB3.0 drivers.

About Framos
Headquartered near Munich, Germany, Framos GmbH has been established as an innovative and active partner in industrial image processing for the last 30 years. Together with its comprehensive portfolio of imaging components such as sensors, companion chips, camera modules, cameras, lighting and accessories, we support our customers with a real variety of development services, ranging from short-term solutions for complex demands up to large scale marketable developments of complete systems. On this basis, we find or develop solutions for the key challenges in image processing, so that our customers can focus on increasing their competitive advantage.

For more information, please visit the company's website at: www.framos.co.uk


More from Electronic Components & Devices