Very Easy: Revolutionary OCR for Electronic Components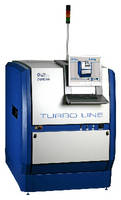 GOPEL electronic's OptiCon AOI systems continue to enhance their wide toolset with the introduction of the unique easyOCR(TM) tool, which revolutionises the utilisation of optical character recognition (OCR), achieving significant time savings in the generation of AOI test programs.

Up to now, OCR functions were accompanied by circumstantial learning of single characters, frequently resulting in extended programming and debug time. Utilising easyOCR(TM) this situation is now a thing of the past.

easyOCR(TM) only requires the programmer to define a test step is define the area around the text to be read and the expected text. Because of an additionally integrated intelligence, a selective text comparison in combination with alternative defaults can be executed after the reading process. Based on a comprehensive data base as well as a fault tolerant text reading algorithm, all prints of various alphanumeric characters can be safely read and provided a character strings. This function is provided as library entree for the automatic test program generation based on placement data. In addition to a highly simple operation, the function is characterised by a low false call rate.

easyOCR(TM) is available in all OptiCon AOI systems. GOEPEL electronic's AOI systems can be applied as inline and offline versions for SMD and THT components before and after the soldering process. Depending on system version and configuration, additionally the top and bottom inspection of double-sided PCBs in just one system is also possible.

About GOEPEL electronic:

GOEPEL electronic is a technologically leading vendor of professional Automated Inspection systems (AOI/AXI). A network of branch offices, distributors and service partners ensures the global availability of the products as well as the support of several hundred system installations. Founded 1991 and headquartered in Jena, Germany, GOEPEL electronic employs currently about 170 employees and generated revenue of more than 22 Million Euro in 2010. GOEPEL electronic has continuously been ISO9001 certified since 1996 and has been honoured with TOP-JOB and TOP-100 awards for being one of the best medium-sized companies in Germany. GOEPEL electronic's products won several awards in recent years and are used by the leading companies in telecommunication, automotive, space and avionics, industrial controls, medical technology, and other industries. Further information about the company and its products can be found on the internet at www.goepel.com.


Related