Vertical Turning Lathe handles jet engine components.
Press Release Summary: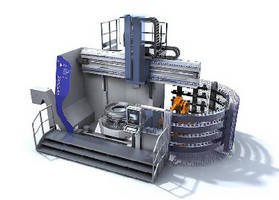 Based on stiff, cast iron structure with thermo-symmetrical design and integral temperature compensation, Model TVU can be configured with milling and grinding capability, robotic tool exchange, and automatic pallet change. System is available in high-speed configuration with 630-800 rpm table for workpieces up to 3.5 tons, or heavy load configuration with 220-500 rpm table capable of supporting 20 ton components. Drive to table is via 2-stage gearbox and backlash-free chain.
---
Original Press Release:

New Vertical Turning Lathe Offers High Level of Automation



A new vertical turning lathe (VTL) has been introduced by DS Technology, Birmingham, that can be configured with milling and grinding capability, robotic tool exchange, automatic pallet change and other features to bring the benefits of unattended, single-hit machining to the production of very large workpieces.

Called TVU, the machine is manufactured by DS Technology group member, Berthiez, at its factory in St Etienne, France. The VTL is ideal for use in the aerospace industry, in particular for turning jet engine components. It is also suited to wind turbine manufacture and other energy-related applications such as valve production in the oil industry. Mould and die machining and turning of large wheels are further areas of potential use.

The turning-milling-grinding centre is based on a compact, stiff, cast iron structure of thermo-symmetrical design with integral temperature compensation. Two configurations are available: either 'high speed' with 630 to 800 rpm table for workpieces up to 3.5 tonnes; or 'heavy load', with 220 to 500 rpm table capable of supporting 20-tonne components. Drive to the table, which can be up to 2.5 metres in diameter, is via a two-stage gearbox and backlash-free chain.

The crossrail / carriage assembly has direct motor and ballscrew drive to traverse six roller bearing packs along on two linear guideways. Optical linear scales provide absolute ram positioning and feedback. The vertical position of the crossrail is optionally adjustable in 100 mm increments to ensure that the ram is in the most rigid and advantageous position for machining, depending on workpiece height.

The vertical movement of the ram itself similarly employs twin guideways, six roller packs and linear scales, the stroke being 1,000 to 1,500 mm, according to machine model. Feed rate is up to 20 m/min. Ram section is a robust 250 x 250 mm and through coolant is provided, with a 400 bar high pressure coolant option.

The ram can deploy either a CAPTO C6 / HSK 63-80 turning tool or can have integrated within it a 40 kW spindle motor for milling at up to 6,000 rpm / 500 Nm or a 25 kW, water-cooled electro-spindle for grinding at 8,000 rpm / 200 Nm. C-axis positioning of the table is in 360,000 increments.

Instead of a disc or chain type tool magazine with ATC, a six-axis robot equipped with a bespoke manipulator can be incorporated to exchange static and live tools as well as toolholder bases. It works in conjunction with a storage rack positioned to the right of the machine that has capacity for 200 tools and 20 toolholders. Tool cleaning is incorporated within the robotic tool change cycle.

Loading and unloading of workpieces weighing up to 6 tonnes can be automated through the use of rotary or linear multi pallet systems with various pallet changing options. Automatic clamping on the machine pallets can be provided to further reduce operator involvement. Control is provided by the highly capable Siemens 840D CNC system.

DS Technology (UK) Ltd, 43/45 Phoenix Park,

Avenue Close, Nechells, Birmingham B7 4NU.

Tel: 0121 359 3637. Fax: 0121 359 1868.

Contact: Jon MacDonald, Managing Director.

E-mail: jon.macdonald@dstechnology.co.uk

Web site: www.ds-technologie.de

More from Thermal & Heating Equipment