Vertical Socket Connector has 0.1 mm lead coplanarity.
Press Release Summary: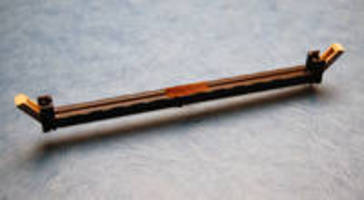 RoHS-compliant, vertical surface-mount DDR2 DIMM socket connector, FCN-078J series uses precision stamping and molding technology to achieve 0.1 mm coplanarity before and after reflow. Available with footprint of 22.7 x 140 mm, 240-position unit has operating temperature range between -55 to +85°C, voltage rating of AC 25 V and maximum current rating of 0.5 A/contact. Suitable applications include blade servers, switches, routers, telecom racks, and test and measurement equipment.
---
Original Press Release:

Fujitsu Releases Vertical-Mount, SMT DDR2 DIMM Socket with Improved Module Mating and Low Lead Coplanarity



Sunnyvale, CA, July 8, 2009 - Fujitsu Components America, Inc. today introduced a vertical, surface-mount DDR2 (double data rate) DIMM (dual in-line memory module) socket connector with an enhanced contact design and 0.1mm lead coplanarity.

The new 240-position, FCN-078J series card-edge socket features a patented, split-beam contact structure that improves module mating reliability. As a memory module is inserted into the socket, the unique twin-contact's wiping action removes dust and flux residue and provides a robust connection between the module and socket even in high-vibration environments. Dual latching mechanisms ensure correct module retention and removal.

The RoHS-compliant, FCN-078J uses Fujitsu's own precision stamping and molding technology to achieve 0.1mm coplanarity before and after reflow. This low-coplanarity specification contributes to improved manufacturing throughput yields. Applications include blade servers, switches, routers, telecom racks, and test and measurement equipment to minimize occupied board space and improve air flow.

The FCN-078J socket measures 22.7mm high x 140mm long. It has an operating temperature range of -55 to +85C degrees, a voltage rating of AC25V and a maximum current rating of 0.5A per contact. Heat resistant tape on the top of the connector facilitates use with pick and place equipment. Solder bars in the middle and on the outside edges of the connector assure accurate IR processing when soldering the connector to the PCB.

Available immediately, the FCN-078J DDR2 DIMM socket is priced at $3.00 each in 10,000-piece quantities.

For more information:

o Download high-resolution photo: http://www.fujitsu.com/downloads/MICRO/fcai/connectors/ddr-2dimm_high.tif

o Datasheet: http://fujitsu.com/downloads/MICRO/connectors/ddr-2dimm.pdf

Company Information

Fujitsu Components America Inc. markets and distributes electronic components throughout North, Central and South America. Products include relays, connectors, keyboards, touch panels, pointing and input devices, LCD console drawers, KVM switches and thermal printer mechanisms. The company is headquartered at 250 E. Caribbean Drive, Sunnyvale, California, 94089. For product information, contact FCAI via telephone at 1-800-380-0059 or by email at components@us.fujitsu.com.

For more information, please see: us.fujitsu.com/components

More from Machinery & Machining Tools