Vertical Machining Center is suitable for dies and molds.
Press Release Summary: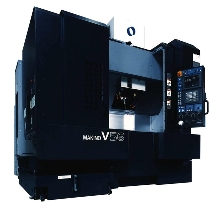 V56 VMC machines dies for precision press dies, mold base of plastic molds, and forging dies. It virtually eliminates need to polish small and medium size dies and molds. It can handle workpieces as large as 41.3 x 28.3 x 17.7 in. weighing up to 1,760 lb. VMC has 40 taper, 20,000 rpm spindle, spindle core cooling, under race lubrication system, 0.000002 in. feedback system, and traverse and cutting feed rates up to 800 ipm.
---
Original Press Release:
Makino's New V56 Machining Center Drives Out Costs by Virtually Eliminating Polishing

V56 Is Suitable for Machining Small- to Medium-Size Applications

MASON, OH-July, 2002-Makino is introducing the V56 vertical machining center (VMC) at the International Manufacturing Technology Show (IMTS) in September. Dedicated to helping manufacturers drive costs out of their operations, the Makino V56 will be unveiled and demonstrated at Makino's Booth #8400 in Hall A. In addition, Makino is showcasing a wide range of wire EDM technology at Booth #4227 in Hall D.

Built with many of the same high-performance capabilities as the V33 and V77, the V56 virtually eliminates the need to polish small- and medium-size dies/molds. The V56 is ideal for machining plastic molds and die cast dies for automotive parts, as well as components of home appliances, office automation equipment and IT-related products. It can also machine the dies for precision press dies, the mold base of plastic molds and forging dies.

V56 Benefits and Features

The V56 can handle payloads weighing up to 1,760 pounds (800 kg) on a 41.3 x 21.7 inches (1,050 x 550 mm) table. There are no overhangs along the X, Y, Z-axes travel of 35.4 x 21.7 x 17.7 inches (900 x 550 x 450 mm), enabling the V56 to provide high-stiffness and rigidity, therefore high-accuracy machining along its entire axes.

While the V56 maintains a relatively compact footprint of 98 x 96 x 108 inches (2,500 x 2,450 x 2,750 mm), it possesses a large machining capacity. The V56 can accommodate workpieces as large as 41.3 x 28.3 x 17.7 inches (1,050 x 720 x 450 mm) and vices that extend over the table. In addition, the table is a comfortable 33.5 inches (850 mm) above the floor, offering operators easy accessibility to perform setups. The front of the machine also offers operators exceptional accessibility to the workpiece and spindle to check machined surfaces and tool condition.

The V56 utilizes a 40-taper, 20,000-rpm spindle, with patented spindle core cooling and under-race lubrication system. This system prevents spindle thermal distortion even during the longest applications, and reduces vibration at high operating speeds, resulting in longer tool life and superior surface finishes. Makino's V56 has rapid traverse and maximum cutting feed rates of 800 inches/min (20,000 mm/min).

A high-performance .000002-inch (0.00005-mm) scale feedback system is available to provide exceptionally smooth machined surfaces even in high-feedrate machining of 3-D shapes involving continuous tiny blocks of NC data. Advanced data management technology and Makino's proprietary, next generation Super Geometric Intelligence (SGI.3) servo control deliver the lowest cycle times available. This technology maintains exceptional accuracy and produces quality finishes that only a machine designed specifically for a die/mold application can provide.

Insulation is applied under the bed and around the bed and column to prevent the ambient air temperature from causing machine attitude changes that deteriorate machining accuracy. A thermal stability system that works to provide high-accuracy is also available as an optional specification to stabilize the column temperature by continuously circulating a special fluid through the column.

A six-nozzle coolant supply device, an air blower and through-spindle air reliably flush chips through outlets underneath the table onto two high-speed conveyors for quick removal from the machine.

Makino is a global provider of advanced machining technology and application support for the metalcutting and die/mold industries, dedicated to driving out more costs from your manufacturing operation than any other competitive machine tool manufacturer. Makino manufacturing and service centers are located in the United States, Japan, Germany, Singapore, Italy, France, Korea, Taiwan, China, Mexico, Brazil, and India, and are supported by a worldwide distributor network. For more information call 1.800.552.3288, or visit Makino on the Web at www.makino.com.
More from Laboratory and Research Supplies and Equipment