Vertical Machining Center has 4.9 x 6.5 ft footprint.
Press Release Summary: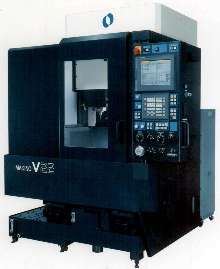 Utilizing 11.3 hp continuous, 40,000 rpm spindle, V22 VMC machines materials such as ceramics with intricate cores and cavities. It employs core cooling and under-race lubrication system, and handles 220 lb load and 17.7 x 18.7 x 7 in. max workpiece. Slideway design provides for 787 ipm rapid traverse and cutting feedrates, while 12.6 in. X-axis, 11 in. Y-axis, and 11.8 in. Z-axis operate in work zone and table size of 17.7 x 13.8 in.
---
Original Press Release:

Makino Introduces New V22 Compact Vertical Machining Center


Excellent for high accuracy, small part machining

MASON, OH-May, 2004- Makino's new V22 vertical machining center is the newest VMC from Makino designed for small part, high-accuracy machining. This ultimate machining center offers a 40,000-RPM spindle with superior finishing abilities, ideal for intricate work.

The V22 delivers superior performance in a footprint that is only two-thirds that of the popular Makino V33. It is ideal for precision parts manufacturing, such as medical equipment and small and intricate molds for plastic injection-molding operations.

"Makino is raising the bar with the V22, challenging even our own engineering to go beyond previously attained results on other machines as the ultimate hard-milling solution," explains Bill Howard, Makino VMC Product Line Manager. "The machine provides precision, accuracy and excellent stability."

Built for precision and superior surface finishes
Designed to machine complex materials, including ceramics, as well as intricate cores and cavities, this newest addition to Makino's line of die/mold machining centers offers a standard 11.3 HP continuous, 40,000-RPM spindle. It is complemented by Makino's patented core cooling and under-race lubrication system that has proven essential for optimal high-performance applications.

The X-axis of 12.6 inches (320 mm), Y-axis of 11 inches (280 mm) and Z-axis of 11.8 inches (300 mm) operate in a work zone and table size of 17.7 inches x 13.8 inches (450 mm x 350 mm). The slideway design provides for a 787 IPM (20,000 mm/min) rapid traverse and cutting feedrates.

The V22 can handle a 220-pound (100 kg) load and maximum 17.7-inch (450 mm) x 18.7-inch (475 mm) x 7-inch (200 mm) workpiece. The machine features an HSK-E32 spindle interface with a standard 30-tool automatic tool changer with a larger 60-tool changer option. A hybrid, automatic tool length measuring device (ATLM) is also optional.

In continuous machining jobs using an ATC, tiny level differences can occur at the seams of machined surfaces due to tool changes. Polishing these features to correct such small levels is very time consuming. The hybrid automatic tool length measuring device available on the V22 positions the tool tip more accurately to achieve superior finished surfaces with minimal level differences. This unique ATLM device offers a high-tech solution without interfering with the workzone. The tool tip position is measured with a low-contact pressure probe, while the spindle nose position is measured with a non-contact sensor.

The V22 also demonstrates its quality and superior capabilities through the following features:

o All axes motion is guaranteed to deliver straightness and perpendicularity of 0.00012 in. (3 micron) full stroke.

o Machine construction is such that there are no overhangs, providing excellent rigidity and dampening characteristics.

o Patented SGL4 virtually eliminates quadrant protrusions and greatly improves circularity even at high feed rates.

o The rapid traverse allows for fast cutting feeds, which boosts productivity by reducing out-of-cut time and increasing metal removal rates.

To maximize shop floor space, the V22 measures 4.9 ft x 6.5 ft (1,500 mm x 2,000 mm), and all setup work is concentrated within the machine's front width of 4.9 ft (1500 mm). With a fully enclosed splash guard, the coolant tank slides out from the front of the machine. The front-loading chip bucket is shaped for easy and efficient chip emptying, even during machine operation.

Makino is a global provider of advanced machining technology and application support for the metalcutting and die/mold industries, dedicated to driving out more costs from your manufacturing operation than any other competitive machine tool manufacturer. Makino manufacturing and service centers are located in the United States, Japan, Germany, Singapore, Italy, France, Korea, Taiwan, Turkey, China, Mexico, Brazil and India, and are supported by a worldwide distributor network. For more information call 1.800.552.3288, or visit Makino on the Web at www.makino.com.

More from Mechanical Power Transmission