Vertical Honing Machine provides true 90 in. stroke.
Press Release Summary: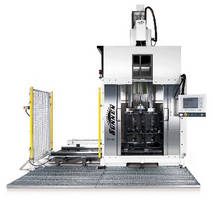 Equipped with 7.5 kW, 5-500 rpm variable speed spindle and 7.5 kW, 1-130 stroke/min DC stroker capable of producing 3,000 lb thrust, Model SV-490 brings end-to-end dwelling capabilities to machining of bores up to 8 in. in diameter. Servo-controlled rotary tool feed system produces 225 lbf-in. of torque for accurate machining with diamond and superabrasive tools. With footprint of 69.44 ft², machine has stationary column that provides stability for long-stroke machining of parts up to 2,000 lb.
---
Original Press Release:

New Vertical Hone Reaches Deep with 90-Inch Stroke for Machining Long Bores in Ideal Orientation



New SV-490 provides true 90-inch vertical stroke and end-to-end dwelling capability for machining energy, aerospace and heavy equipment components

Sunnen Products' new SV-490 hone brings true 90-inch (2286 mm) vertical stroke and end-to-end dwelling capabilities to the machining of bores up to 8 inches (200 mm) diameter on large aerospace, energy and hydraulic components. The machine is equipped with a 7.5 kW (10 hp) 5-500 rpm variable speed spindle and a 7.5 kW (10 hp) 1-130 strokes-per-minute DC stroker, capable of producing 3000-lbs (1360 kg) thrust. The servo-controlled rotary tool feed system produces 225 lbf-in (25.4 Nm) of torque for fast, accurate machining with diamond and superabrasive tools. The feed system can be optimized for each application by either operating as a rate system or feeding to a constant spindle load. This capability, coupled with the standard features such as sizing, sparkout, crosshatch, and two-stage honing allows users to tailor machine operations to the tooling/abrasive combination best suited to the application. These features compensate for part variation and allow the SV-490 to produce more consistent surface finishes with better tool life and optimized cycle time.

The SV-490 platform offers processing advantages over horizontal machines by eliminating the need to rotate the workpiece during honing to prevent centerline shift due to tool and workpiece weight. With a footprint of just 69.44 sq ft, the vertical design also uses less floor space than a horizontal machine and facilitates coolant flow. The stationary column provides stability required for long-stroke machining on parts up to 2000 lbs (900 kg), with diameters from 0.75 to 8.0 inches (19 to 200 mm).

A Windows®-based industrial PC control system allows intuitive setup for stroke, crosshatch angle and other parameters, with capability for dwelling the tool in multiple areas to correct part geometry or process blind bores. The SV-490 can be equipped for in-process air gaging with Sunnen's PH hone head, or with post-process air gaging. A bore profile display indicates bore straightness throughout the cycle and an optional post-process gaging system with SPC software allows data collection and machine process control to submicron tolerances. A multi-axis hand wheel allows fine tuning of vertical stroke and honing tool position.

The SV-490 is built on a heavy-duty cast iron base for rigidity and vibration damping with a T-slot table in the base for ease of fixturing. A wide-open door design allows easy pass-through of large parts, and makes the machine highly adaptable for fully automated robotic parts loading in lean environments.

The new SV-490 is the latest addition to the SV-400 series which already includes machines with 30-inch and 60-inch strokes. The range of machines covers a wide variety of honing applications, such as engine blocks, hydraulic blocks, compressors, large connecting rods and bearing sleeves. This modular machine series allows for automation and customization options to meet exact requirements, including robotic part loading. Tooling choices include Sunnen's diamond or Borazon® multi-stone tools including PH, CV/CK cylinder honing tools, GHSS single-stage and GHTS two-stage tools, P20 and P28 mandrels for long-bore honing and MPS modular tooling.

Additional information on the SV-400 series is available from Sunnen Products Company, 7910 Manchester Rd., St. Louis, MO 63143. Tel: 1-800-325-3670; fax: 314-781-2268 or email sales@sunnen.com.

Sunnen Contact

Mr. Bob Davis

Global Communications Mgr.

Sunnen Products Company

7910 Manchester Ave.

St. Louis, MO 63143

Tel: 314.781.2100

bdavis@sunnen.com

More from Agricultural & Farming Products