Vertical Farming Platform includes LED lighting.
Press Release Summary: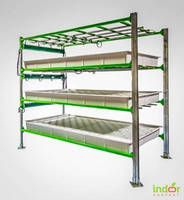 Engineered to utilize standardized Strut channel framing system, Vertical Farming Platform will support either aeroponic or hydroponic systems. Solution incorporates Illumitex® brand Eclipse Series LED horticulture light system, as well as related brackets and hardware to support lighting system drivers and associated plumbing. Offering fully customizable design, platform is suitable for small growers entering industry.
---
Original Press Release:
Indoor Harvest, Corp. to Introduce Low Cost Vertical Farming Platform at Indoor Ag-Con
HOUSTON, -- Indoor Harvest, Corp. (OTC Pink: INQD), through its brand name Indoor Harvest(TM), is a design build contractor, developer, marketer and direct-seller of commercial grade aeroponic and hydroponic fixtures and supporting systems for use in urban Controlled Environment Agriculture and Building Integrated Agriculture. The Company is pleased to announce that it will be introducing its recently developed low cost vertical farming platform at Indoor Ag-Con next week in Las Vegas, Nevada.

Indoor Harvest's CEO and founder Chad Sykes commented, "We believe that there is a growing demand for affordable vertical farming systems, but most current offerings are still out of the price range of most entrants. We looked at the current state of the industry and developed what we believe is the most cost effective platform based on current technology available."

The Company's new vertical farming platform is designed to reduce costs by being engineered to utilize the standardized "Strut" channel framing system. Strut channel is the industry standard when it comes to the construction of framing systems to support mechanical systems around the world. As an addition to our platform, we have developed a frame that will support either an aeroponic system or a hydroponic system and incorporates the Illumitex® brand Eclipse Series LED horticulture lighting system right out of the box. The Company has also engineered the related brackets and hardware to support the lighting system drivers and associated plumbing.

Mr. Sykes added, "By making our vertical farming platform compatible with Strut framing systems and a proven popular LED lighting system, we have created a platform that can be fully customized, is affordable to even the smallest operator and can reduce the cost associated with installation. With prices expected to come in around $90 a square foot for a complete shallow raft system, including LED's, I believe we've developed the lowest cost system on the market while maintaining commercial grade engineering. We designed this platform specifically for the smaller commercial vertical farming operator."

Vertical farming is a new industry that has only just recently begun to gain traction. Over the last three years, we have seen a significant increase in the number of small scale vertical farms being built to grow gourmet leafy greens, herbs and micro-greens for niche produce markets. It is our intention to provide affordable, simple to install systems to these small growers entering this new industry.

To date, vertical farming has mostly been a do-it-yourself business. Vertical farming industry entrants have had to design their own systems due to a lack of affordable platforms. This more often than not has resulted in higher R&D expenditures as early pioneers have had to design and re-design their systems as they go. The trend has been to adapt existing industrial shelving systems such as tear drop and cantilever style systems for use in vertical farming. This approach is costly because modifications must be made to these systems to adapt them for use in vertical farming. These modifications dramatically increase installation labor. Our system has been pre-engineered specifically for vertical farming and designed to reduce labor costs associated with installation.

We will begin offering our new vertical farming platform in the Second Quarter of 2015. We will be displaying our vertical farming platform at the upcoming Indoor Ag-Con March 31 through April 1, 2015 in Las Vegas, Nevada. For more information on Indoor Ag-Con please visit http://www.indoor.ag.

We currently plan on filing on March 31, 2015 our Annual Report on Form 10-K for the year ended December 31, 2014.

Consistent with the SEC's April 2013 guidance on using social media outlets like Facebook and Twitter to make corporate disclosures and announce key information in compliance with Regulation FD, Indoor Harvest is alerting investors and other members of the general public that Indoor Harvest will provide weekly updates on operations and progress through its social media on Facebook and Twitter. Investors, potential investors and individuals interested in our company are encouraged to keep informed by following us on Twitter or Facebook. 

Facebook: http://www.facebook.com/indoorharvest
Twitter: http://www.twitter.com/indoorharvest

ABOUT INDOOR HARVEST, CORP.
Indoor Harvest, Corp., through its brand name Indoor Harvest(TM), is an emerging design build contractor and OEM manufacturer of commercial aeroponic and hydroponic system fixtures and framing systems for use in Controlled Environment Agriculture and Building Integrated Agriculture. Our patent pending aeroponic fixtures are based upon a modular concept in which primary components are interchangeable. We are developing our aeroponic and hydroponic systems for use by both horticulture enthusiasts and commercial operators who seek to utilize aeroponic and hydroponic vertical farming methods within a controlled indoor environment. Please visit our website at http://www.indoorharvest.com for more information about our Company.

Contacts
Indoor Harvest, Corp.
CEO, Mr. Chad Sykes
713-410-7903
ccsykes@indoorharvest.com
More from Sensors, Monitors & Transducers