Vertical Fall detects metal in granular and powder material.
Press Release Summary: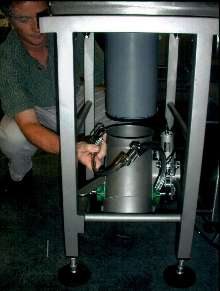 Compact Vertical Fall combines quick-release sealed reject mechanism with compact dimensions. Sealed flap reject system can be cleaned without having to be removed from line. Detector head is available in painted IP54 for dry applications or stainless steel sealed to IP66 for full washdown. Test grid is integrated into machine as standard. Display panel can be incorporated into machine, mounted on framework, or located away from machine for remote access.
---
Original Press Release:
Lock Saves Space with Compact Vertical Fall

Leading inspection systems manufacturer Lock has added to its MET 30+ metal detector series by launching the Compact Vertical Fall. 25% smaller than the previously available standard systems, the new Vertical Fall provides manufacturers with high levels of protection for incoming bulk raw materials in both granular and fine powder form - even in severely restricted spaces. The machine incorporates a quick release reject system to reduce the amount of product rejected and downtime, whilst protecting the quality of the material.

Lock previously supplied two types of Vertical Fall system with differing rejects: a shorter, unsealed unit for granular applications such as rice, as well as a sealed model for fine dusts and powders such as powdered milk and cocoa. In designing the Compact Vertical Fall, the objective was to create a machine that could detect in both types of raw material, combining a fast-acting, sealed reject mechanism with compact dimensions. The short height of the pneumatic reject system on the Compact Vertical Fall provides fast acting removal of contaminated products, which increases efficiency and throughput rate.

The sealed flap reject system offers particular maintenance advantages. It can be cleaned on the spot without having to be removed from the line. There are no nuts or bolts to unscrew, it is sufficient to unclip the hinges and pivot the arm to clean the interior of the pipe. This quick release means less time is wasted on dismantling and resealing the valve. The detector head is available in painted IP54 for dry applications or stainless steel, sealed to IP66 for full washdown.

"We identified the need for a shorter system to overcome the space constraints many of our customers were facing when installing detection equipment. Because of its reduced overall length, the new compact unit will benefit companies installing metal detectors on existing lines or planning for new lines. Its quick release for cleaning, fast-acting removal of contaminants and high levels of sensitivity will serve to increase productivity," comments Mark D'Onofrio, Vice President General Manager at Lock.

Previously an add-on feature to assist in checking the detector is running to specification, a test grid is now integrated into the machine as standard. The detector's display panel can be either incorporated into the machine, mounted on a framework or located away from the machine for remote access. The Compact Vertical Fall system can be easily slotted in under a silo or hopper at the beginning of the production line to inspect raw materials for metal contamination. Alternatively, it can be incorporated into existing piping systems.

Lock Inspection Systems has supplied checkweighing and metal detection equipment to companies in the food, pharmaceutical and packaging industries for over fifty years and counts many key industry players amongst its customers. Based in Fitchburg, Massachusetts, and Oldham, UK, with offices in France and the Netherlands, Lock has a global network of distributors and high caliber maintenance and research teams.

For further information, please contact: Mark D'Onofrio, Lock Inspection Systems Inc., 207 Authority Drive, Fitchburg, MA 01420 6094, USA. Tel: +1 978 343 3716/800 227 5539 Fax: +1 978 343 6278 E-mail: mdonofrio@lockinspection.com
More from Architectural & Civil Engineering Products