Vertical Conveyor suits sanitary applications.
Press Release Summary: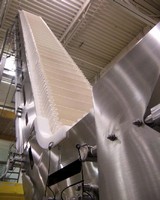 Designed with 1 or 2 fixed angle points, sprocket-driven AquaPruf LPZ Series accommodates variety of height and angle requirements. ThermoDrive® solid urethane belt provides smooth operation in wet, humid conditions and has no bacteria-harboring hinges or pins. Featuring open-frame design, conveyor allows access to cleaning frame and both top and bottom of belt. AquaPruf LPZ Series comes in Z-frame, horizontal-to-incline, and nose-over configurations.
---
Original Press Release:

Dorner's New AquaPruf LPZ Series Platform



Gives Vertical Conveyor Applications Enhanced Sanitation

HARTLAND, Wis., (Nov. 19, 2007) - For vertical conveyor applications that call for an extremely high level of sanitation, Dorner's new AquaPruf LPZ Series Platform reaches new heights.

Unlike traditional vertical bucket and chain conveyors that typically offer very little in the way of equipment sanitation, the AquaPruf LPZ Series Platform provides the highest level of sanitation with virtually no spillage of product on incline or decline applications.

Conveyor downtime for cleaning is another area where the AquaPruf LPZ Series Platform outshines bucket conveyors. The sprocket-driven LPZ Series can be disassembled for cleaning by one person, without tools, in a matter of minutes. Anyone who's worked on a traditional vertical bucket or chain conveyor knows it can take up to several hours to disassemble and fully clean the conveyor. This gives the AquaPruf LPZ a much higher return-on-investment for customers, not to mention more effective sanitation.

For applications calling for a sanitary vertical conveyor with an extreme height, above and beyond the standard AquaPruf LPZ offering, Dorner can easily manufacture an AquaPruf LPZ conveyor with a height of 20 feet or higher.

The AquaPruf LPZ Series conveyor platform, part of the AquaPruf family of sanitary conveyors, is designed with one or two fixed angle points that allow the conveyor to accommodate a variety of height and angle requirements. Offering an AquaPruf LPZ Series platform gives customers a conveyor system with all the sanitary advantages of fast and effective cleaning, along with the flexibility of moving product up an incline or down a decline to best fit their needs. Also, the AquaPruf LPZ Series saves valuable production floor space.

In the AquaPruf LPZ Series, Dorner used a positive-driven Mol Industries® USDA-approved solid urethane belt for smooth, consistent operation in wet, humid environments. This TheromDrive® urethane belt will not stretch in humid conditions and has no bacteria-harboring hinges or pins. Another sanitary feature of the AquaPruf LPZ Series platform is its open-frame design that allows for easy access to cleaning the frame and both the top and bottom of the belt - all of which provide a conveyor system that's more sanitary and easier to clean than any other conveyor on the market today.
The AquaPruf LPZ Series platform comes in three types of configurations: Z-frame, which has two angle points; horizontal-to-incline, a design which has a section of the conveyor up an incline; and nose-over, a design which has a section of the conveyor on a decline. All three configurations come in either plastic chain or belt options.
Delivery time for standard AquaPruf LPZ Series conveyor systems is about 10 - 12 days from time of order.

Hartland, Wisconsin-based Dorner Manufacturing is a world leader in the design, manufacture and distribution of high-quality conveyors and related equipment. Since 1973, companies from around the world have turned to Dorner conveyors for greatly improved efficiency and productivity. For more information about products or company news, visit Dorner's Web site at www.dorner.com or call 1-800-397-8664. Dorner Mfg., P.O. Box 20, 975 Cottonwood Ave., Hartland, Wis., 53027

More from Packaging Products & Equipment