VENU Bollard Lights offer CRI of 70.
Press Release Summary: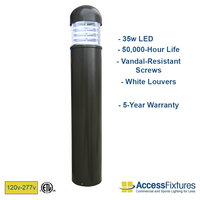 Featuring aluminum heat sinks, VENU Bollard Lights are suitable for illuminating pathways, sidewalks and commercial facilities. Emitting up to 3,000 lumens of light, units are available in 25 W and 35 W rating with choice of 3000 K, 4000 K and 5000 K light temperatures. Delivering up to 50,000 lifetime hours, lights come in round dome and flat-top style in louvers or cone reflectors options.
---
Original Press Release:
Access Fixtures Launches New VENU LED Bollard Lights
Access Fixtures announces its new 25w and 35w VENU bollard lights. Available in round dome and flat-top styles, with a choice of louvers or cone reflectors, these durable bollard lights are ideal for illuminating pathways, sidewalks, commercial facilities, universities, and more. VENU bollard lights emit up to 3,000 lumens via ten integrated Cree LED chips arranged at the top of each bollard.
At 50,000 rated lifetime hours, these units are energy-efficient and long-lasting options for lighting sidewalks and more. The VENU cone reflectors are designed to catch the light from the downward-facing LEDs and reflect it outward, making for fantastic light distribution. The louvered VENUs, however, direct the light in a 360-degree circle down and around the fixtures.
"These VENU bollards are extremely efficient and require almost no maintenance," says Access Fixtures CEO, Steven Rothschild. "And the durable metal protects VENU bollards against dust, wind, rain, snow, and just about anything else Mother Nature can throw at it."
These fixtures feature aluminum heat sinks to keep the LEDs cool, consistent, and operating at maximum efficiency. VENU fixtures not only deliver more light than most other bollard lights on the market, they look terrific, too. These bollards come in your choice of 3000K, 4000K, or 5000K and all three Kelvin temperatures will guarantee a CRI of 70.
For high-performance, efficient, and reliable LED bollard lights, explore the VENU family from Access Fixtures. Their team of USA-based lighting specialists will help you find the best lighting for your commercial, industrial, or residential lighting project.
About Access Fixtures
Access Fixtures offers factory­-direct commercial, industrial, hospitality, and sports lighting for less. Featuring light fixtures with LED, induction, PSMH, and fluorescent light sources and with custom manufacturing capabilities, Access Fixtures builds luminaires and poles to the performance specifications our clients require. Luminaire types include wall packs, area lights, bollard lights, garage lighters, vandal ­resistant lights, exit and emergency lights, high bays, low bays, and vapor-tight luminaires. For more information, visit Access Fixtures at www.accessfixtures.com.