Venturi Vacuum Pumps integrate with ISO 5599/1 valves.
Press Release Summary: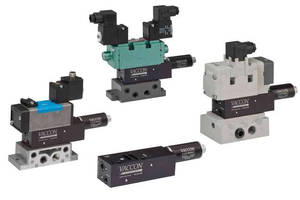 Compatible with all ISO 5599/1 Size-1 directional control valves, Vac-Stac™ Series foster accelerated incorporation of vacuum with individual ISO valve bases or manifold assemblies for automation applications. Modular products, which add <2 in. to valve stack height and can be retrofitted into existing equipment and systems, offer means to control air and vacuum in one unit. There are 11 performance levels available up to 28 in. Hg vacuum level and 3.2 scfm vacuum flow.
---
Original Press Release:

Vaccon Venturi Pumps Integrate Vacuum into ISO 5599/1 Size-1 Valves in Minutes



Vaccon Venturi Pumps Integrate Vacuum into ISO 5599/1 Size-1 Valves in Minutes



Medway, MA – Vaccon Company, a U.S. manufacturer of air-powered venturi vacuum pumps, introduces the new Vac-Stac™ Series of venturi vacuum pumps designed specifically to integrate with all ISO 5599/1 Size-1 directional control valves. Vaccon's Vac-Stac pumps provide the quickest and most efficient way to incorporate vacuum with individual ISO valve bases or manifold assemblies for automation applications including pick & place and material handling operations in packaging, automotive and food processing industries.



Similar to "sandwich" flow control valves or pressure regulators, Vac-Stac pumps offer Original Equipment Manufacturers (OEMs) and machine designers an efficient solution to control air and vacuum in one compact unit. Modular, lightweight and easy to install, Vac-Stac pumps are compatible with any manufacturers ISO 5599/1 Size-1 valves including SMC, Numatics, Festo, Parker and others.



Vac-Stac pumps eliminate the need for separate vacuum pumps and air lines, minimizing the number of pneumatic components and fittings saving money, time, and space. Installation is quick and easy, simply remove the ISO valve body from its base, mount the Vac-Stac pump to the valve base, and reattach the valve body to the combined pump/base. Vac-Stac pumps add less than 2 inches to the valve stack height and can be easily retrofitted into existing equipment and systems.



Vac-Stac pumps are available in 11 different performance levels up to 28" Hg [948 mbar vacuum level and 3.2 SCFM [90.6 LPM vacuum flow. As with all Vaccon products, the Vac-Stac series pumps operate continuously without maintenance or costly filters, eliminating downtime, increasing productivity and improving profitability.



In addition to ISO 5599/1 valves, Vaccon offers a solenoid controlled venturi pump that integrates with the MAC 92 Series Sub Base.



About Vaccon

Founded in 1972, Vaccon Company engineers and manufactures air-powered venturi vacuum pumps, cups, accessories & end-of-arm tooling for the robotics, automation and process control industries. From pick & place to leak testing to vacuum sealing, our diversified customer base includes every major industry segment, Fortune 500 manufacturers and many OEM's (Original Equipment Manufacturers) and systems integrators.



Vaccon vacuum pumps are designed to increase production, minimize downtime, improve quality and overall profitability. Our single-stage venturi pumps feature a straight-through, in-line design that ensures consistent, reliable and maintenance-free operations even in the most adverse environments. We believe in innovation through collaboration and are pleased to offer custom products in any size, shape, material or quantity required.



As vacuum technology experts, we provide free technical support, application assistance and video demonstrations. Vaccon vacuum pumps are made in the USA and available through an independent distributor network throughout the U.S., around the world and on the web at www.vaccon.com. Vaccon vacuum products are the "air force" for automation.



For further information contact:

Vaccon Company

Chris Marotta, Marketing Communications Manager

9 Industrial Park Road

Medway, MA 02053

(508) 359-7200, US (800) 848-8788, Fax (508) 359-0177

Email:

[email protected]



http://www.vaccon.com/vac-stac.aspx