Vehicle Scale Controller allows unattended truck weighing.
Press Release Summary: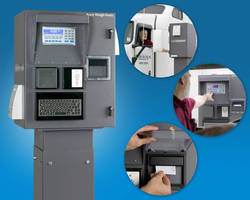 Able to function without scale operator, AVS-7 Vehicle Scale Controller features E1310 indicator, offering flexibility of multiple databases, with 100 available records in each ID database table. Gross, tare, and net weights are provided for each transaction. Also able to weigh sets of axles as driver enters scale, unit offers network capabilities for remote transfer of database files. System includes thermal printer, locking access hatches, and NEMA 4X enclosure.
---
Original Press Release:

Avery Weigh-Tronix AVS-7 Vehicle Scale Controller for Unattended Weighing



Fairmont, MN - July 16, 2009 - Avery Weigh-Tronix, LLC introduces the AVS-7 Vehicle Scale Controller, a cost-effective, high-accuracy automated weighing solution for unattended truck scale operations. Based on Avery Weigh-Tronix's proven E1310 indicator technology, the AVS-7 control console collects driver and weight data efficiently and accurately-with no scale operator needed-in just a few simple steps. First, a driver stops on the scale and swipes an ID card or manually enters an ID number and any requested data. The vehicle then exits the scale to be loaded or unloaded. Upon returning to the scale for the outgoing weighment, a ticket is printed displaying the weight and driver/truckload data, with all collected information stored in the AVS-7's database. The AVS-7 can be paired with a robust Avery Weigh-Tronix truck scale or other compatible models, and it affords users the flexibility of various hardware configurations-including an intercom, adjustable-height stand and other options-to provide a convenient, standalone weighing solution for industries such as agriculture, aggregate, asphalt, food, recycling and transportation.

At the heart of the AVS-7 console is the E1310, an advanced indicator/controller that combines usability with dependability. The E1310 presents reliable, accurate weight data on its easy-to-read display and offers the flexibility of multiple databases, with 100 available records in each ID database table. Gross, tare and net weights are provided for each transaction, and the system may also be configured to weigh sets of axles as the driver enters the scale. It additionally boasts sophisticated network capabilities to simply transfer database files in remote applications-allowing monitoring and reporting via web, e-mail and FTP-and can use wireless RF to connect to a LAN or WAN.

"The AVS-7 Vehicle Scale Controller gives users the ability to select the precise combination of features required for their operations-such as an ID card reader for efficiently collecting driver information, and a full QWERTY keyboard to facilitate manual data entry when needed," said Larry Behrens, Product Manager at Avery Weigh-Tronix. "All AVS-7 configurations save users the cost and inconvenience of requiring a scale attendant onsite and prove particularly useful at sites open 24/7. Plus, the AVS-7's rugged construction ensures dependable readings, even in adverse weather conditions."

The AVS-7 is NTEP approved to provide legal-for-trade accuracy and UL listed for safety assurance. Its NEMA 4X rating ensures the AVS-7 is able to withstand harsh outdoor environments to deliver reliable performance. The AVS-7 gathers and stores driver information and individual scale transactions, with the ability to retain and print comprehensive data such as Tag ID, Vehicle ID, Control ID, Customer ID, Product ID, and Hauler ID for tracking, inventory and billing purposes.

The AVS-7 features:

o E1310 indicator with sun visor for enhanced readability in daylight conditions

o Thermal printer with extra-large paper roll for reduced change-outs

o NEMA 4X enclosure to withstand challenging outdoor environments

o Locking access latches for increased security while allowing proper user access

o Optional components including sun shroud, proximity card reader, intercom, QWERTY keypad, cooling system, heater, adjustable-height stand and insulated enclosure

Avery Weigh-Tronix is a pioneer in the design and manufacture of innovative precision electronic weighing devices and control systems.

For further information, contact: Avery Weigh-Tronix, LLC, 1000 Armstrong Drive, Fairmont, MN 56031. Phone: 507-238-4461. Fax: 507-238-8224. Email: usinfo@awtxglobal.com. Web: www.wtxweb.com.

More from Electronic Components & Devices