Vehicle-Mounted Computer suits rugged warehouse environments.
Press Release Summary: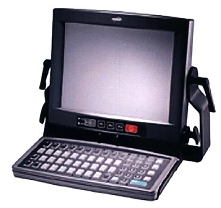 VRC 8900 is built around Windows CE operating system and powered by 32-bit, 206 MHz, Intel StrongArm processor. It includes 12.1 SVGA touch-screen display and optional detachable keyboard. Unit mounts to forklift or any fixed position within facility. VRC 8900 integrates Spectrum24(R) wireless local area network for real-time communications, and supports portable, fixed and wireless printing.
---
Original Press Release:
COMPUTERS TOUGH ENOUGH FOR THE FACTORY FLOOR, WAREHOUSE AISLES: SYMBOL TECHNOLOGIES ANNOUNCES HIGHLY RUGGEDIZED VEHICLE MOUNTED COMPUTERS

HOLTSVILLE, NY (March 12, 2002) -- Symbol Technologies, Inc. (NYSE:SBL), world leader in mobile and wireless supply chain solutions, announced today at CeBIT 2002 in Hannover, Germany, a new series of high-performance, rugged computers ideal for environments such as manufacturing and warehouse logistics.

The Symbol VRC 8900 offers a full suite of advanced features and
productivity-focused enhancements that will maximize performance on the factory floor or warehouse aisle. It's built around the Windows CE operating system and powered by a 32-bit, 206MHz, Intel StrongArm processor for a host of programming and software options, and boasts a 12.1 SVGA touchscreen display -- which doubles the viewing area and data display of most rugged computers -- for ease of use. It also features an optional detachable keyboard.

The VRC 8900 can be mounted to a forklift, or to any fixed position within a facility allowing worker mobility and providing anywhere-anytime information. It easily interfaces with Symbol's family of ruggedized 1D and 2D bar code scanners.

The VRC 8900 empowers traditional "on-the-floor" applications such as real-time receiving, tracking, put-away, picking and shipping applications. The VRC8900 series integrates the Symbol Spectrum24® wireless local area network for real-time communications, and supports a variety of portable, fixed and wireless printing options.

How tough is it? It can operate in extreme temperature -- as low as minus 22*F/minus 30*C -- and withstand multiple drops of six feet to concrete and still perform shift after shift.

"Symbol has an extensive family of rugged computers for real-world operations and offers complete wireless mobile computing solutions for industrial use," said Barry Issberner, Vice President Vertical Marketing, Symbol Technologies. "The VRC 8900 is aimed right at the toughest environments, which are typically hostile to computing, but where mobile computing is essential to performance."

Symbol Technologies, Inc., winner of the 1999 National Medal of
Technology, is a global leader in mobile data transaction systems, providing innovative customer solutions based on wireless local area networking for data and voice, application-specific mobile computing and bar code data capture.

Symbol's wireless information appliances connect the physical world of people on the move, packages, paper and shipping pallets, to information systems and the Internet. Today, some 10 million Symbol bar code scanners, mobile computers and wireless LANs are utilized worldwide in markets ranging from retailing to transportation and distribution logistics, manufacturing, parcel and postal delivery, government, healthcare and education. Symbol's systems and products are used to increase productivity from the factory floor to the retail store, to the enterprise and out to the home.
More from Agricultural & Farming Products