VAST® Enterprises, LLC Expands Distribution into the Chicago Area with Illinois Brick Company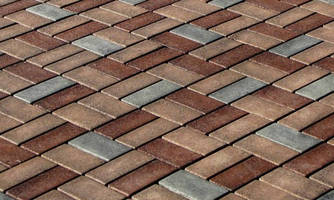 Illinois Brick Company, the Leading Distributor of Brick and Masonry Products to the Chicagoland Market, Adds a New Green Building Product: VAST Composite Pavers Made from Recycled Rubber and Plastics

CHICAGO and MINNEAPOLIS - Today in Chicago, Ill. at the Mid-America (Mid-Am) Horticultural Trade Show, Illinois Brick Company and VAST Enterprises, LLC announced that Illinois Brick now supplies VAST composite masonry products to builders and contractors in the Chicago area. The expanding line of VAST composite masonry products - manufactured in VAST's patented blend of recycled car tires and plastic containers - includes Composite Landscape Pavers, Composite Permeable Pavers for stormwater management, Composite Deck Pavers, and Composite Thin Brick.

The Mid-Am show is at McCormick Place West. Illinois Brick is located at booth #233. Illinois Brick and VAST are presenting VAST products at booth #680 in the Sustainability Zone, which showcases the most innovative green products.

"With the growth of green building and more and more projects seeking LEED certification, we want to fulfill our customers' demands for green building products," said Jerry Vinci, president, Illinois Brick Company, Palos Hills, Ill. "VAST Composite Pavers are a proven green alternative and can contribute to more LEED credits than any other paver."

"We are growing VAST into a nationally branded composite masonry company distributing green building products coast to coast," said Andy Vander Woude, LEED AP, chief executive officer, VAST Enterprises, Minneapolis, Minn. "Illinois Brick is one of the biggest and best brick and masonry suppliers in the country and has earned an excellent reputation in the Chicago area for providing first-rate products, superior customer service and fast delivery to job sites."

With its patented material science technology, VAST converts post-consumer recycled rubber and plastics into a new green building material: composite masonry. VAST achieved a technology breakthrough by engineering the first composite material that consists of up to 95 percent recycled content and has the strength, durability and appearance to offer an alternative to molded concrete and clay brick in landscape and hardscape applications.

All VAST composite products are cradle-to-cradle green. The manufacturing process starts with recycled tires and plastic containers, releases minimal greenhouse gas emissions (90 percent less carbon dioxide compared to concrete products), generates no volatile organic compounds, yields zero scrap, and creates products that are 100 percent recyclable. No other paver can help projects earn more LEED credits than VAST.

Illinois Brick Company:
Starting in 1981 with one yard and three outside salespeople, Illinois Brick Company has grown into one of the largest independently owned and operated brick and masonry supply companies in the U.S. Today, Illinois Brick serves the greater Chicago area at several locations and multiple showrooms. We offer a wide selection of bricks, natural and manufactured stone, pavers, retaining and seating walls, ponds and water features, and masonry supplies and tools. Illinois Brick distributes the highest quality products from the most respected manufacturers in the U.S., provides excellent customer service, and always delivers products and services in a timely manner. For more information, call 708-237-5600 or visit www.illinoisbrick.com.

VAST Enterprises, LLC:
VAST applies its patented technology to transform recycled materials into a new resource for green building: composite masonry. VAST composite products - including landscape pavers, permeable pavers for stormwater management, deck pavers and thin brick - offer an engineered alternative to molded concrete and clay brick. VAST meets the most demanding requirements for aesthetics, durability, sustainability and installation efficiency. Award-winning VAST pavers deliver rich colors, superior slip resistance and unbeatable strength at one-third the weight of concrete pavers. VAST can contribute to qualification for more LEED® credits than any other paver. Today, every 5,000-square foot VAST landscape installation keeps 2,500 scrap automobile tires and 75,000 plastic containers out of U.S. landfills. Tomorrow? The Future is VAST(TM). Learn more at vastpavers.com. Then call (612) 234-8958.

LEED® (Leadership in Energy and Environmental Design) is registered trademark of the U.S. Green Building Council.

More from Fluid & Gas Flow Equipment