AC Motor Controllers and Drives
Variable Speed AC Drive suits HVAC and pump applications.
Press Release Summary: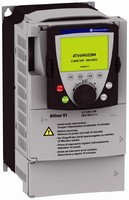 Designed to reduce energy costs by adjusting motor speeds to match required flow, Telemecanique® Altivar® 61 manages and monitors all building HVAC and pump applications. It achieves under-voltage ride-thru qualified to SEMI F47 standards and eliminates need for throttling valves, dampers, or inlet guide vanes. Along with multiple I/O and communication options, drive features on-board diagnostics and graphic screen with customizable display. Ranges include 1-125 hp or 1-900 hp.
---
Original Press Release:

New Telemecanique AC Drive Designed for Ease-of-Use, Flexible Performance in HVAC, Pump Applications



PALATINE, Ill. - August 16, 2006 - Schneider Electric introduces the latest in its innovative line of Telemecanique® Altivar® variable speed AC drives - the Altivar 61 drive. With a wide range of functions for centrifugal pumps and fans, the Altivar 61 drive is the solution for OEMs, end users and system integrators requiring an easy-to-use product with a high level of functionality, customization and energy efficiency. Providing superior performance, the Altivar 61 drive is Schneider Electric's second generation of AC drives to achieve under-voltage ride-thru qualified to SEMI F47 standards. These features combine to make the Altivar AC drive family the most advanced and user-friendly on the market.

The Altivar 61 drive has the ability to reduce energy costs by adjusting motor speeds to match the required flow. The drive also lowers installation costs by eliminating throttling valves, dampers or inlet guide vanes typically used to control flow. The resulting accurate flow control also improves occupant comfort.

The Altivar 61 drive offers the widest HP range in the industry - from 1 to 900 hp - with a common user interface and multiple I/O and communication options. It's designed to manage and monitor all building HVAC and pump applications, such as supply fans for heating and cooling, ventilation fans for exhaust/smoke ventilation, cooling tower fans, multipump water distribution, municipal water pumps, and hot water and chilled water pumps.

"Users tell us that the Altivar 61 drive has the easiest start-up they've ever experienced," says Ivan Spronk, AC drives market manager for Schneider Electric North America. "Also, the drive's modular configuration makes it simple and cost effective to add additional inputs/outputs or integrate into any of the four major building automation networks with the selection of up to two internally mounted option cards."

Several features contribute to the Altivar 61 drive's overall ease of use, including the graphic screen with a customizable display, which appears in plain text and comes equipped with a navigation wheel for easy surfing through the menus. A "Simply Start" menu allows for quick start-up and open access to the most common parameters. A hand/auto function key provides bumpless transfer between the terminal strip controls, communication network control and keypad control.

Exceptional in functionality and flexible across numerous applications, the Altivar 61 drive provides benefits to designers and end users alike. The Altivar 61 drive offers customizable capabilities that allow an OEM to add value and provide a unique solution. End users enjoy the drive's quick installation, simple start-up and on-board diagnostics for uncomplicated maintenance. As an example of its smarter diagnostics, if a fault occurs, the state of the drive is recorded at that moment - including elapsed time, line voltage, motor current and other critical data.

"For system integrators, the Altivar 61 drive has the flexibility and wide horsepower range to be used on a variety of installations," Spronk says. "System integrators will also value the capability to easily integrate the product into a high-level automation system."

The entire line of Altivar drives provides protection at all levels: thermal guarding of the motor, a power removal safety function, alarm and external fault management, and defenses against overheating and corrosive environments. A combination of integrated filters and DC link reactors provide effective harmonic mitigation without using additional panel space. Furthermore, the drives are environmentally friendly - developed with the Eco-Design principle using materials selected for minimal impact on the environment and conforming to both the RoHS [Restriction of Hazardous Substances] directive and to the WEEE [Waste Electrical & Electronic Equipment] directive."

The Altivar 61 AC drive is available in two models: a 1 to 125 hp at 200 to 240V, and a 1 to 900 HP model at 380 to 480V.

For more information on Telemecanique automation and control solutions from Schneider Electric, visit www.us.telemecanique.com or contact your local authorized Square D® / Telemecanique distributor.

Headquartered in Palatine, Ill., the North American Operating Division of Schneider Electric had sales of $2.8 billion (U.S.) in 2005. The North American Operating Division is one of four operating divisions of Schneider Electric, headquartered in Paris, France, and markets the Square D, Telemecanique and Merlin Gerin brand products to customers in the United States, Canada and Mexico. In the United States, Schneider Electric is best known by its flagship Square D brand, with Telemecanique becoming increasingly known in the industrial control and automation markets and supported by many Square D distributors. For 100 years, Square D has been a market-leading brand of electrical distribution and industrial control products, systems and services. Schneider Electric is a global electrical industry leader with 2005 sales of approximately $14.5 billion (U.S.). Visit Schneider Electric on the Internet at:

Corporate - www.us.schneider-electric.com
Telemecanique Products - www.us.telemecanique.com
Square D Products - us.squared.com
Merlin Gerin Products - us.merlingerin.com

Please send all reader inquiries to:
Square D Literature Fulfillment Center
W6545 Quality Drive
Greenville, WI 54942
Attention: Sue Tebo
800-392-8781
or e-mail to: SquareD@banta.com

More from Test & Measurement