AC Motor Controllers and Drives
Variable Speed AC Drive features intuitive user interface.
Press Release Summary: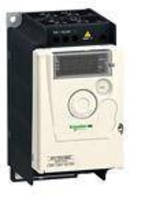 Housed in machine-ready package, Altivar® 12 is designed with components that will provide 10-year service life or more under normal operating conditions and enable drive to continue running despite minor transient voltage sags and surges. Rotary adjustment and navigation button provides intuitive fingertip access to drive's programming, while conformal coating protects circuit boards from dust, moisture, and other airborne contaminants, enabling use in harsh environments.
---
Original Press Release:

New Altivar® 12 Variable Speed Drive from Schneider Electric Is Small in Size, Big on Performance



PALATINE, Ill. (USA), May 4, 2009 - Schneider Electric, one of the world's leading suppliers of power, control and automation solutions, has announced the availability of the Altivar® 12 product, a new variable speed AC drive that delivers flexibility, performance and energy efficiency in a compact, easy-to-use design. It also comes with other key features that make it superior to other drives in its class, including:

1. Exceptional starting and stopping motor performance, which eliminates the need to oversize the drive or add dynamic braking in most applications

2. An intuitive user interface more common on high-end drives simplifies programming and reduces start-up time

3. A new generation of components that are designed to provide a 10-year service life or more even under less-than-ideal operating conditions (based on MTBF data)

4. A small, attractively designed product exterior that is suitable for consumer machines

"The Altivar 12 drive is an example of how drives are becoming more advanced and capable of delivering energy efficiency in a wider variety of applications," says Jeff Jervah, business director for automation and drive solutions for Schneider Electric. "Designed to meet the needs of customers for a variable speed drive that is small, intuitive and reliable without compromising quality, the Altivar 12 drive provides best-in-class motor performance in an innovative, machine-ready drive package."

Making Machines More Competitive

The Altivar 12 drive showcases a commitment to quality that is part of the culture of Schneider Electric. With its small format and nearly 150 application-specific advanced functions, it can easily outperform other drives in its category as well as many higher-end drives that may be oversized for the applications they control. The Altivar 12 drive features a new generation of components that are designed for a 10-year service life under normal operating conditions. This design can handle a wide range of power disturbances, enabling it to continue running despite minor transient voltage sags and surges, promoting impressive system reliability. Conformal coating in key areas also protects circuit boards from dust, moisture and other airborne contaminants, which allows the drive to withstand harsh environments.

Setup and usability are also dramatically easier. Installation requires only a screwdriver, and the rotary adjustment and navigation button provides intuitive fingertip access to the drive's programming. An optional unique configuration console further allows OEMs and panel builders to configure the drive in its original packaging with the power off, saving time and money normally spent on manually entering parameters.

Adaptable

The Altivar 12 drive provides excellent speed and torque control and rapid detection of motor current peaks. This is vital for applications that require good motor control despite machine load changes. The catch-on-the-fly feature improves responsiveness and system reliability. Installations that are suited to the strengths of the Altivar 12 drive include:

o Mixed-use retail and residential buildings (heating, cooling, ventilation, pumping and circulation)

o Food industry (kitchen ventilation hoods, bagging machines, wrapping equipment, bakers' kneading machines, mixers, grinders, greenhouses ventilation, etc.)

o Special machines (car washes, conveyors, packaging)

o Medical and health sector (medical beds, fitness machines)

o Cord and plug machines (woodworking machines, surface polishing and cleaning machines, swimming pool or irrigation pumps, hydromassage bathtubs)

o Retrofit of traditional controls (reversing applications, two-speed motors, DC motors, mechanical drives)

Altivar Drives

The Altivar family of variable speed AC drives presents one of the most advanced and user-friendly drive solutions in the marketplace. Using proprietary motor control algorithms to increase responsiveness, improve flexibility and accelerate performance, Altivar drives offer a wide range of product capabilities and mounting solutions to provide a variety of control options, from the simplest forms of motor speed controls to the most complex drive applications with coordinated motion and network connectivity. The entire Altivar line of drives provide motor protection, from thermal overload, short circuit and other electrical and mechanical hazards and external fault management to guard against overheating and other externally caused problems.

About Schneider Electric

As a global specialist in energy management with operations in more than 100 countries, Schneider Electric offers integrated solutions across multiple market segments, including leadership positions in energy and infrastructure, industrial processes, building automation, and data centers/networks, as well as a broad presence in residential applications. Focused on making energy safe, reliable, efficient, productive and green, the company's 114,000 employees achieved sales of more than $23 billion in 2008.

www.schneider-electric.us

More from Computer Hardware & Peripherals