Variable Resistors use fine and coarse control mechanisms.
Press Release Summary: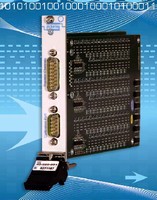 Featuring PXI form factor, 3-channel Series 40-260 covers resistance range of 90 W to 8 kW. Resistance setting resolution is better than 10 mW over entire resistance range and accuracy is better than 0.1% for all resistance settings. Suited for simulating RTD's and strain gauges in test environment, modules include calibration port that can be used to calibrate resistor channels while unit is connected to UUT.
---
Original Press Release:

Pickering Interfaces Introduces New Generation PXI Precision Resistor Module Family



Clacton on Sea, UK, October 31s 2007, Pickering Interfaces is expanding its range of PXI products with the introduction of the first in a new range of Precision Resistor modules.

The 40-260 is a 3 channel variable resistor module covering the resistance range of 90W to 8kW with unprecedented resolution and accuracy in the PXI form factor. The 40-260 provides a resistance setting resolution of better than 10 mW over the entire resistance range and an accuracy of better than 0.1% for all resistance settings.

The 40-260's combination of resistance range and fine setting resolution means it offers the equivalent of better than 20 bits of resolution of resistance setting. It uses an innovative (patented) design principal that combines fine and coarse control mechanisms in combination with a calibration system to achieve its excellent performance. The requested resistance value is simply provided by the use of resistance calls (in ohms) to the module instead of the alternative approaches which are based on setting patterns of relay settings. According to David Owen, Business Development Manager for Pickering Interfaces, "This approach saves users considerable effort in simulating variable resistance devices, as they no longer need to convert requests for resistance values into relay patterns, and the resistance request they send to the module is responded to with an accuracy that is at least an order of magnitude more accurate than that achievable by other approaches used in PXI modules. The specifications of the 40-260 family make them ideal for applications such as simulating RTD's and strain gauges in a test environment".

The excellent accuracy of the 40-260 is easily supported when the deployed in a system. The module includes a calibration port that can be used to calibrate the resistor channels while the unit is connected to the UUT in a test system using an external DMM connected to the calibration port.

Other versions of the 40-260 Precision Resistor Module family can be supplied with variation on channel count, resolution and resistance range to suit different applications and cost targets. For more information contact your local Pickering Interfaces sales representative.

Pricing and availability information is supplied on our web site www.pickeringtest.com

About Pickering Interfaces
Pickering Interfaces is a market innovator in signal switching and conditioning for a broad range of applications and architectures, with the largest range of switching cards in the industry for PXI, LXI, PCI, VXI and GPIB applications. Pickering Interfaces has provided solutions to both commercial and military applications. In addition, Pickering's range of instrumentation provides innovative test solutions to users and integrators of modular test systems. Pickering Interfaces operate globally with direct operations in the US, UK, Germany, Sweden, France , Czech Republic, and Engineering support in China, together with additional representation in countries throughout the Americas, Europe and Asia.

Sales Contact for the US :
bob.stasonis@pickeringtest.com
Tel. +1 781-897-1710

More from Construction Equipment and Supplies