Vapor Pressure Analyzer leverages laser measurement technology.
Press Release Summary: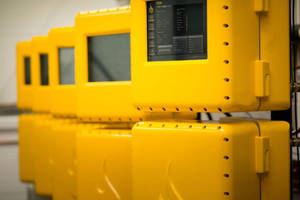 Utilizing piston expansion principle for measurement, explosion proof-certified Vapour Pressure analyzer, suited for hazardous area use, features cooled sample cell and does not require industrial air or purge gases. Flame arrestors maximize flow rates with viscous products, and multiple communications options are available. Featuring integrated, 17 in. touchscreen, analyzer is completely ASTM D6377 compliant and can measure single and multiple adjustable vapour liquid ratios (0.02:1 upwards).
---
Original Press Release:

New Laser Technology from Icon Scientific Takes Vapour Pressure Analysis to the Next Level



Bath, UK — Icon Scientific Limited (Icon), leader in process physical property analysers, is the only manufacturer of a vapour pressure analyser to utilise ultra-precise laser measurement technology.  Icon's unique Vapour Pressure analyser is the most accurate available for the measurement of vapour pressure and is the only analyser of this calibre with all explosion proof certification for Hazardous Area use.



Primarily used in testing crude oil, gasoline, LNG condensate or liquefied petroleum gas, Vapour Pressure is the pressure exerted by vapour in equilibrium in a closed system above a liquid at a specified temperature and vapour-liquid ratio. The Icon vapour pressure analyser utilises the piston expansion principle to measure vapour pressure in line with all the latest expansion based test methods.



Kevin Fogarty, Managing Director at Icon, said: "The advent of our patent pending laser technology for the control of vapour pressure measurement across the full sample spectrum provides previously unattainable industry benefits.  The Icon Vapour Pressure has set new standards by delivering unrivalled accuracy and repeatability for proven, industry-leading results.  Also, unlike 'traditional' technologies, operation without the need for industrial air or expensive purge gases has led to full, explosion proof certification for Hazardous Area use.  Complimenting this, Icon has overcome the usual restrictions associated with flame arrestors.  The Vapour Pressure is the only analyser available which features Icon's unique, patented pending flame arrestors, which allow for higher flowrates with more viscous products, whilst keeping the Ex certification intact. The design avoids the need for costly purge gases and high integrity earth systems, giving the Vapour Pressure a new level of flexibility and scope in the field, as well as representing savings in terms of overall lifetime running costs."



The combination of cutting-edge technology, a robust, rugged explosion-proof housing and an integrated, sophisticated, user-friendly 17" wipe clean glass touchscreen, all certified to the latest standards, has led to a rapidly expanding customer base for Icon.  Certifications include ATEX (Europe) and IECEx (worldwide including Australia); ETL/CSA listing for use in Canada and the US (plus countries where American standards are preferred); the latest CU TR (which replaces the older GOST certification); and Japanese TIIS certification.



Significantly, the Icon Vapour Pressure is completely ASTM D6377 compliant.  Thanks to the Vapour Pressure's precision laser piston position measurement, it is outstanding when it comes to measuring single and multiple adjustable vapour liquid ratios, delivering 0.02:1 upwards.  As a result, the Vapour Pressure can simultaneously measure Reid Vapour Pressure Equivalent and True Vapour pressure according to ASTM D6377 at levels where traditional technologies are unable to compete.



Such precise measurement also enables the Vapour Pressure to determine vapour pressure temperature relationships and use them to predict vapour pressure over a wide temperature range.  An additional feature is that the Vapour Pressure can simultaneously measure Gas Oil Ratio - an important environmental measurement.  While this is not part of ASTM D6377, Icon's R&D team has designed the Vapour Pressure with the customer requirements in mind: one analyser can uniquely, simultaneously measure TVP, RVP and GOR  (at tank storage temperature) and also output RVPE at 37.8 (100F) for product specifications. For gasoline blending control, it can measure the RVP and V/L20 simultaneously.



Also part of the Vapour Pressure's core design is the use of a cooled sample cell combined with the ability, in most cases, to return samples straight back into the process.  Removing the need for cooling water, external chillers and pumped sample recovery units has made the Icon Vapour Pressure attractive to customers with remote facilities, especially those with remote desert locations.  



Naturally, the Vapour Pressure marries with the latest control technology.  It uses Modbus 485 as standard, whilst also having Modbus over fibre optic capability for TCP/IP internet control.   In addition, OPC software enables the analyser to communicate directly with a customers' Distributed Control System and create a network of Icon analysers.  For remote locations, WiFi is also an option.



The Icon Vapour Pressure is the only vapour pressure analyser available to offer industry-leading analytics combined with full explosion-proof certification for Hazardous Area and an unparalleled flexibility with associated cost saving benefits.  In addition, Icon offers excellent customer service with fully trained representatives in every region.  For more information, visit www.iconscientific.com



Press enquiries to:

Joan Senior

Coda Communications

Tel. 01202 721169

Email joan@codacomms.com



About Icon Scientific Limited

Icon's expertise lies in transforming innovative ideas into practical tools for the industry. Together its staff has over 100 years of experience in online process analyser development; they know what works in the field, understand what technicians need and have engineered the tools to match.



Icon's analysers feature numerous unique design features to make the petroleum testing process quick, efficient and reliable. These include a durable touch-screen operating system with a wipe-clean finish; ATEX , CSA, UL, TIIS, GOST and IECEx safety certification; a strong, explosion-proof construction and uniform management across analysers.



Icon offers a full spectrum of testing and analysis equipment, with the full range including Cloud Point, Freeze Point, Flash Point, colour and opacity analysers, Vapour Pressure, Pour Point, Viscosity and Distillation analysers.

More from Communication Systems & Equipment