Vision and Imaging Sensors / Detectors
Vantage Controls and Wattstopper, Two Products of Legrand, Win Architectural Record's Products of the Year Awards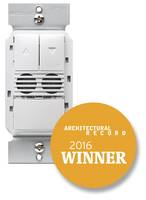 PLEASANT GROVE, Utah AND SAN JOSE, Calif., December 8, 2016 – Legrand, North America announced today that two of its products, the Equinox 73 LCD Touchscreen by Vantage Controls and the Wattstopper DW-311 Dual Technology 0-10V dimming wall switch occupancy sensor, have been selected as Products of the Year in the lighting and electrical category by Architectural Record magazine.
"The Products of the Year awards represent the best of the best, with the winning items demonstrating high levels of innovation, usefulness, and aesthetics," says Julie Taraska, Products Editor of Architectural Record. "Winners are chosen by a jury of practitioners and specifiers—folks who are active in the architecture and design industries and know products inside-out because they use them every day."
Legrand's award winning products:
The Equinox 73 LCD Touchscreen is a wall-mounted touchscreen for Vantage Controls' lighting automation system. It provides a simple, smart tablet-style navigation experience for easy room control, with complete consistency across Vantage Controls Equinox touchscreens, keypads, and applications for smartphones and tablets. The touchscreen provides control and status for three sub-systems via widgets, that can include information on Lighting, Weather, Climate, Scenes, Shading, and Timers. With the unique profiles feature, users are given the ability to personalize their experience by allowing them to schedule, edit, and prioritize the control functions that matter most to them.
The Wattstopper DW-311 0-10V Dimming Wall Switch Occupancy Sensor features Wattstopper dual technology, which combines Passive Infrared (PIR) and ultrasonic technologies to easily detect minor and major movements in spaces. As buildings upgrade to energy efficient LED lighting fixtures, these sensors can provide further energy savings when implemented in lighting controls programs. The DW-311 controls 0-10V LED lighting in any space with partitions or obstacles, like cubical areas, restrooms, large conference rooms and classrooms. This innovative wall switch dimmer meets energy code requirements, and features multi-way control. The vandal resistant lens provides safety by combining precise coverage with durability, and the color matched lens provides an appealing aesthetic that can meet any décor.
"We appreciate the recognition from Architectural Record on these products," said Jim Young, VP of Strategy and Business Development for the Building Control Systems Division at Legrand. "Our mission is to provide control solutions that deliver real value. Our elegant products are easy to install, code compliant, and provide energy savings. Having two of our products selected is a true testament that what we do is appreciated in the industry."
All award-winning products are featured in Architectural Record's December 2016 issue.
About Vantage
Vantage, a Legrand group brand, is a leading manufacturer of intelligent, energy efficient lighting control systems for luxury residential and commercial applications. For more than 30 years, Vantage has employed the latest technologies in its products to create fully integrated, easy-to-use lighting automation solutions that save energy, comply with energy codes, and meet green initiatives. Vantage has been part of the Legrand group since its acquisition in 2006. For more information, visit www.vantagecontrols.com.
About Wattstopper
Wattstopper, a product line of Legrand, offers the most comprehensive line of simple, scalable and flexible energy efficient lighting controls and solutions for commercial and residential applications. The Wattstopper range of products, programs, and services have been helping customers save energy, meet green initiatives and comply with energy codes for more than 30 years. www.legrand.us/wattstopper.
About Legrand
Legrand is the global specialist in electrical and digital building infrastructures. Its comprehensive offering of solutions for use in commercial, industrial and residential markets makes it a benchmark for customers worldwide. Innovation for a steady flow of new products with high added value is a prime vector for growth, including in particular connectable products enhancing value in use. Legrand reported sales of $5.3 billion in 2015. Legrand has a strong presence in North America, with a portfolio of well-known product lines that include C2G, Cablofil, Electrorack, Middle Atlantic, Nuvo, On-Q, Ortronics, Pass & Seymour, QMotion, Quiktron, QMotion, Raritan, Solarfective, Vantage, Wattstopper, and Wiremold. Legrand is listed on Euronext Paris and is a component stock of indexes including the CAC40, FTSE4Good, MSCI World, ASPI, Corporate Oekom Rating and DJSI (ISIN code FR0010307819). www.legrand.us.
Media Contacts:
Reid Cram,
Director of Marketing,
Vantage Controls
(801) 226-4522
Mary Placido,
Wattstopper PR
(415) 218-3627
More from Architectural & Civil Engineering Products