Valve Sealants and Lubricants meet ISO quality guidelines.
Press Release Summary: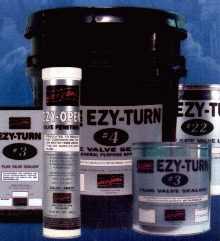 EZ-TURN® valve sealants, EZY-PAK® injection packing, and EZY-OPEN® penetrants meet or exceed requirements for applications from geothermal wellheads to chemical processing. Peanut butter type body fillers and synthetic varieties are suited for expanding and slab gate valves. EZ-TURN® sealants are suited for ball and tapered and cylindrical plug valves. Available in gel or liquid, EZY-OPEN(TM) is formulated as flush to penetrate and scale rust and oxidized valve fillers and lubricants.
---
Original Press Release:

Jet-Lube Introduces Valve Sealants and Lubricant Lines


Houston TX- For gate, ball and plug valves JET-LUBE® manufactures a full line of EZ-TURN® valve sealants, EZY-PAK® injection packing and EZY-OPEN® penetrants. All valve compounds are formulated to meet or exceed manufacturer's requirements and produced in conformance to ISO quality guidelines. These products meet a wide spectrum of valve applications ranging from geothermal wellheads to chemical processing. A complete cross-referencing chart is posted on the JET-LUBE website.

For expanding and slab gate valves, JET-LUBE manufactures the popular "peanut butter" type body fillers as well as synthetic varieties. Numerous EZ-TURN® sealants for all major brands of ball and tapered and cylindrical plug valves are available to meet a wide range of service conditions. Versions of each product line are also available for extreme high or low temperature flow control applications. JET-LUBE's EZY-OPEN(TM) is available in a gel or liquid and formulated as a flush to penetrate and scale, rust and old oxidized valve fillers and lubricants.

The JET LUBE® valve products are available in a variety of sizes as well as in bulk. For more details and to view the full range of products visit www.jetlube.com or call 1-800-538-5823 for free literature.

JET-LUBE
4849 Homestead Road Suite 200
Houston TX 77028
1-800-538-5823
FX: 713-678-4604
Attn: Tom Blake

More from Fasteners & Hardware