Valve Positioner provides stable and accurate control.
Press Release Summary: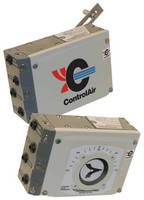 Operated with cam characterized air pressure control, Type-2000 Pneumatic and Electro-Pneumatic Valve Positioners provide stable and accurate control of rotary and linear valves. Base pneumatic version operates on 3–15 psig instrument signal supplied to positioner; mechanical feedback via cam is linked to spool valve that loads actuators for positioning. Electro-Pneumatic Positioner receives 4–20 mA input signal, and integral I/P transducer converts input signal to pneumatic output.
---
Original Press Release:

ControlAir Expands Product Offering with New Valve Positioner



AMHERST, NH, USA – ControlAir Inc., a leading manufacturer of precision pneumatic and electro-pneumatic control products, today announced they are expanding their product offering to include a new line of valve positioners. The new Type-2000 Pneumatic and Electro-Pneumatic Valve Positioners are designed to provide stable and accurate control of rotary and linear valves.



These force balanced devices are operated with cam characterized air pressure control utilizing a low friction spool valve to accurately drive rotary and linear pneumatic actuators. ControlAir's base pneumatic version of the Type-2000 operates on a 3-15 psig (0.2-1.0 bar) instrument signal supplied to the positioner to achieve a required valve output. Mechanical feedback via a cam is linked to a spool valve that loads the actuators for positioning and self corrects where necessary. A modular build concept allows the pneumatic unit to be quickly field converted to a fully optioned electro-pneumatic unit.



The Type-2000 Electro-Pneumatic Positioner receives a 4-20 mA input signal, and uses an integral I/P transducer to convert the input signal to a pneumatic output. Mounted internally to the positioner housing the ControlAir Type-590X I/P Transducer module provides intrinsically safe operation. The positioner can also be ordered with the ControlAir Type-595XP Explosion-Proof I/P mounted to the housing. Either version is available with Factory Mutual (FM), Canadian Standards Association (CSA) or ATEX hazardous area approvals. The positioner is vibration, position and shock insensitive.



The positioners are available for rotary or linear actuation; single and double-acting. The unit accepts standard Namur mounting for rotary actuators. Multiple cam and spindle configurations are available. Simple yet rugged construction makes the Type-2000 easy to calibrate and maintain. Single piece spindle and stainless steel spool valve design assure long operating life. The sensitive and high gain pilot valve provides quick and accurate valve/actuator response.



ControlAir Inc. manufactures precision pneumatic and electro-pneumatic controls. ControlAir's markets include process control, semiconductor, printing and converting presses, diagnostic and surgical medical equipment, robotics, quality control, automotive, analyzers, compressors, pumps and paint equipment. For more information, ControlAir's website, www.controlair.com, offers full product specifications with PDF files, 3-D Interactive Catalogs, downloadable 3-D and 2-D CAD drawings, and company profile.



Contact:

John Walsh

Phone: 603-886-9400

ControlAir Inc.

Fax: 603-889-1844

8 Columbia Drive

E-mail: sales@controlair.com

Amherst, NH 03031 USA

Website: http://www.controlair.com

More from Test & Measurement