Valve Controller programs radial spray and spinner systems.
Press Release Summary: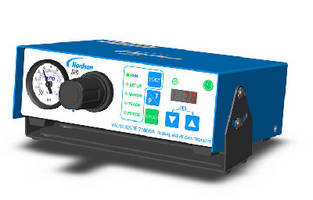 Featuring microprocessor circuitry that provides exact time control of dispense cycle, 7160RA ValveMate™ Controller offers intuitive way to program 782RA internal Radial Spray Valve and 7860C-RS Radial Spinner System. Spray or dispense valve open time can be adjusted in increments as small as 0.001 seconds. For Radial Spray installations only, air pressure regulator provides low-volume, low-pressure air to nozzle, providing high transfer efficiency without overspray.
---
Original Press Release:

Nordson EFD Introduces Updated ValveMate Controller for Exceptional Spray Valve Control



Conveniently Program Radial Spray and Radial Spinner Systems



East Providence, RI USA — Nordson EFD, a Nordson company (NASDAQ: NDSN), the world's leading precision fluid dispensing systems manufacturer, introduces the 7160RA ValveMate™ controller. The controller provides an intuitive way to program Nordson EFD's 782RA internal Radial Spray Valve and 7860C-RS Radial Spinner System. The controller's unique microprocessor circuitry provides exact time control of the dispense cycle with an improved user interface.



"The valves used for dispensing are very important, but it is the controller that actually drives the consistency and reliability of the dispensing process," said Claude Bergeron, Nordson EFD global product line manager. "ValveMate controllers provide the primary control of the deposit size. They bring fluid dispensing control close to the dispense valve and provide numerous user-friendly features that simplify valve set-up and operation, maximizing automated assembly machine efficiency and convenience."



The ValveMate 7160RA controller is a fast, convenient way to make on-the-fly adjustments for Radial Spray or Radial Spinner system applications. Spray or dispense valve open time can be adjusted in increments as small as 0.001 seconds. For Radial Spray installations only, an air pressure regulator provides low-volume, low-pressure (LVLP) air to the nozzle, providing a high transfer efficiency without overspray. The result is an exceptional spray pattern definition without time-consuming programming or mechanical adjustments that could shut down the production line.



Nordson EFD's 782RA Radial Spray valve is a precision spray valve that produces a narrow radial output ideal for coating the interiors of cylinders using a rotating air cap. LVLP technology enables uniform coatings of lubricants, primers, and other low- to medium-viscosity fluids. When paired with the ValveMate 7160RA's built-in air pressure regulator, specially atomized nozzle air ensures high transfer efficiency without overspray. Instant fluid cutoff at the end of the spray cycle ensures that coatings are applied evenly from start-up to shutdown.



Similarly, Radial Spinner Systems apply consistent bands of low- to medium-viscosity fluids, such as lubricants, solvents, and silicone oils. During operation, the system dispenses a controlled amount of fluid onto a spinning disk. As the fluid leaves the edge of the disk, it is evenly distributed onto the production part. When controlled by the ValveMate 7160RA, the process combines precision with convenience to facilitate radial dispensing applications.



For more information visit Nordson EFD on the web at www.nordsonefd.com, www.facebook.com/NordsonEFD, or www.linkedin.com/company/nordson-efd, email info@nordsonefd.com, or call +1 401.431.7000 or 800.556.3484. For Nordson EFD LLC sales and service in over 30 countries, contact Nordson EFD or go to www.nordsonefd.com.



About Nordson EFD

Nordson EFD designs and manufactures precision fluid dispensing systems for benchtop assembly processes and automated assembly lines. By enabling manufacturers to apply the same amount of adhesive, lubricant or other assembly fluid to every part, every time, EFD dispensing systems are helping companies in a wide variety of industries increase throughput, improve quality, and lower their production costs. Other fluid management capabilities include high-quality syringe barrels and cartridges for packaging one- and two-component materials, along with a wide variety of fittings, couplers and connectors for controlling fluid flow in medical, biopharmaceutical and industrial environments.The company is also a leading formulator of specialty solder pastes for dispensing and printing applications in the electronics industry. 



About Nordson Corporation

Nordson engineers, manufactures and markets differentiated products and systems used for dispensing and processing adhesives, coatings, polymers, sealants and biomaterials; and for managing fluids, testing and inspecting for quality, treating surfaces and curing. These products are supported with extensive application expertise and direct global sales and service. We serve a wide variety of consumer non-durable, consumer durable and technology end markets including packaging, nonwovens, electronics, medical, appliances, energy, transportation, building and construction, and general product assembly and finishing. Founded in 1954 and headquartered in Westlake, Ohio, the company has operations and support offices in more than 30 countries. Visit Nordson on the web at www.nordson.com, www.twitter.com/Nordson_Corp or www.facebook.com/nordson.



Nordson EFD, LLC

Steve Neves

Marketing Specialist

(401) 431-7032

steven.neves@nordsonefd.com



USA & Canada:

800-556-3484

+1-401-431-7000

info@nordsonefd.com

More from Thermal & Heating Equipment