Valve Controller does on-line diagnostics for safety systems.
Press Release Summary: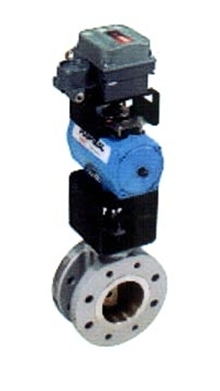 Fieldview DVC6000 is suitable for use in emergency shutdown solutions for Safety Instrumented Systems (SIS). Its on-line diagnostics and partial stroking eliminate valve as source of failure, reduce test time per valve, increase reliability of shutdown valves, and enable frequent testing. Controller conducts and records diagnostic tests automatically and/or remotely, as needed, and provides time and date stamp on all tests and reports.
---
Original Press Release:
Emerson's New On-Line Diagnostics In Valves Impact Reliability Of Safety Systems

Fisher Valve division introduces FIELDVUE DVC6000 for emergency shutdown solutions for Safety Instrumented Systems

Marshalltown, Iowa (26 November 2001) -Fisher Controls International, Inc., an Emerson Process Management division, has expanded the capabilities of its FIELDVUE' DVC6000 Series Digital Valve Controllers, making them ideal for use in Safety Instrumented Systems (SIS).

"With traditional valve and instrument methods, as much as 50% of faults in a safety system can be caused by the valve," commented Bruce Johnson, Fisher vice president of instruments. "This new SIS-enhanced valve controller uses the power of on-line diagnostics and partial stroking to virtually eliminate the valve as a source of failure in this very critical application."

The new FIELDVUE DVC6000 Series release reduces the test time per valve and provides flexibility to enable more frequent testing. Ongoing testing cost of safety-system valves is reduced, saving tens of thousands of dollars per valve over the life of the plant. Reliability of shutdown valves is increased, and thereby contributes to the safety and availability of the safety instrumented function.

The new FIELDVUE DVC6000 Series release, when used on Emergency Shutdown Devices (ESD), provides:

* Increased system availability - The simple, secure method of partial stroking enables users to perform more frequent, flexible valve mechanical movement tests. These tests increase system availability and reduce the probability of failure.

* Improved test personnel safety - Remote testing allows plant personnel to test installed safety valves from the safety of the maintenance shop, reducing cost, speeding testing, and improving the safety of plant test personnel.

* On-line testing -The use of a DVC6000 ESD instrument on SIS valves enables partial-stroke testing while the process is still on. Partial stroking tests valve movement with a ramp small enough not to disrupt production, but large enough to confirm that the valve is working.

* Valve Stuck Alert - If, while performing the partial-stroke test, the FIELDVUE DVC detects that the valve is stuck, it will not completely exhaust the actuator pressure. This assures that the valve, should it become unstuck, will not slam shut. The FIELDVUE controller will abort the test and send an alert, indicating that the valve is stuck.

* Reduced costs of ownership - The FIELDVUE instrument's state-of-the-art testing capabilities eliminate the need for expensive pneumatic test panels, thereby lowering initial equipment and installation costs.

* Improved documentation - AMS ValveLink® software used with the FIELDVUE Digital Valve Controller can (a) conduct and record diagnostic tests, automatically and/or remotely, as needed; (b) provide a time and date stamp on all tests and reports, and (c) compare and interpret diagnostic data, thereby improving predictive maintenance.

About Emerson Process Management
Emerson Process Management, an Emerson business, is a leader in helping businesses automate their production, processing and distribution components in the chemical, oil and gas, pulp and paper, power, food and beverage, pharmaceutical and other industries. A division of Emerson, Fisher Controls International, Inc. is a global leader in the design, manufacture and application of final control systems. Fisher's best-in-class technology and expertise play a key role in Emerson's combining of superior products and technology with industry-specific engineering, consulting, project management and maintenance services. Emerson brands include Fisher, Rosemount, Intellution, Micro Motion, Performance Solutions, Westinghouse Process Control, PlantWeb®, DeltaV, and AMS.

About Emerson
St. Louis-based Emerson is a global leader in bringing together technology and engineering to provide customers with innovative solutions in industrial process control; electronics and telecommunications; industrial automation; heating, ventilating and air conditioning; and appliance and tools. Sales in fiscal 2001 were $15.5 billion.

More from Fluid & Gas Flow Equipment