Valve Actuators offer torque range from 2,250-18,000 lb-in.
Press Release Summary: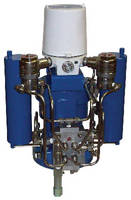 Available in 3 sizes for 2-8 in. valves, Shafer(TM) SH Series Gas-Over-Oil Valve Actuators are operated by hydraulic oil, pressurized from 400-1,500 psig by pipeline gas, which helps prevent internal corrosion associated with other actuator designs. Actuators utilize helical spline technology, which does not cause stem side loading, minimizing chance of premature packing or seal wear. Units are suitable for standard on/off service or as part of emergency shutdown system.
---
Original Press Release:

Emerson Launches Shafer SH Series Gas-Over-Oil Actuator



The SH Series is designed for high reliability, a long service life, and is ideally suited to critical applications

AUSTIN, TEXAS -- Emerson Process Management introduces the Shafer(TM) SH Series of gas-over-oil valve actuators. The SH series actuators are ideally suited to automate valves used for gas transmission as well as at compressor stations, gathering plants, storage facilities, meter runs and many other applications. Designed for fifty years of operation, the actuator has a 15 year seal life and a ten year, industry-leading warranty.

The SH series actuator is operated by hydraulic oil, pressurized by the pipeline gas. Powering the actuator with oil prevents the internal corrosion associated with other actuator designs. The actuator is designed so that the gas is contained within two tanks, half filled with hydraulic oil. Contaminants and moisture in the gas settle to the bottom of the tank where they can be easily drained.

The actuators can be used for standard on/off service or as part of an Emergency Shutdown System (ESD). Three sizes of SH are available to suit 2" to 8" valves with a torque range between 2,250 in-lbs and 18,000 in-lbs. Torque is evenly applied across the whole range of movement, making the SH Series ideal for plug and blowdown valves. The compact actuator package is operated by solenoid valves which are factory piped, ready for operation. A switch box provides open/closed feedback to the operator.

The helical spline technology contained within the actuator does not cause stem side loading, which other designs can be prone to do. Stem side loading can cause premature packing or seal wear and leakage. The SH series is powered by pipeline gas in the pressure range of 400 to 1500 psig. It is also possible to operate the actuator manually when required, for example during commissioning or in situations where pipeline pressure is not available.

Maintenance requirements are minimal; the drain valve in the tanks needs to be opened periodically to remove the contaminants and water that have settled out of the gas. This should normally only be necessary once a year.

About Emerson Process Management

Emerson Process Management (www.emersonprocess.com), an Emerson business, is a leader in helping businesses automate their production, processing and distribution in the chemical, oil and gas, refining, pulp and paper, power, water and wastewater treatment, mining and metals, food and beverage, life sciences and other industries. The company combines superior products and technology with industry-specific engineering, consulting, project management and maintenance services. Its brands include PlantWeb(TM), Syncade(TM), DeltaV(TM), Fisher®, Micro Motion®, Rosemount®, Daniel®, Ovation(TM), Shafer(TM), and AMS Suite.

About Emerson

Emerson (NYSE:EMR), based in St. Louis, Missouri (USA), is a global leader in bringing technology and engineering together to provide innovative solutions for customers in industrial, commercial, and consumer markets through its network power, process management, industrial automation, climate technologies, and appliance and tools businesses. Sales in fiscal 2009 were $20.9 billion. For more information, visit www.Emerson.com.


Related