Vacuum Press suits polytetrafluorethylene laminating.
Press Release Summary: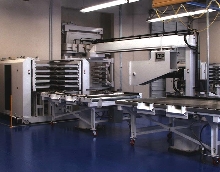 Vacuum compression press laminates fluoropolymers at temperatures up to 735°F. Precise temperature control is attained via heat transfer fluids and The Edge II Advanced Control System. Press is available up to 2100 tons, with 5 or more openings and work areas up to 59 x 89 in. All models include hydraulics, vacuum pump system, and computer-based controls. Fully enclosed vacuum system minimizes air, moisture, and volatile entrapment.
---
Original Press Release:
TMP Introduces Vacuum Compression Press for PTFE Laminating

Cleveland, OH: Technical Machine Products (TMP), a leading manufacturer of laminating presses for the printed circuit board and laminating industries, has recently introduced a high-temperature press for PTFE (polytetrafluorethylene) laminating.

The vacuum compression press is designed to laminate fluoropolymers at high temperatures, up to 735 degrees F. Precise temperature control is attained utilizing special heat transfer fluids and The Edge II Advanced Control System. The result is maximum speed and uniformity of both heating and cooling.

The press is available up to 2100 tons, with five or more openings and with work areas up to 59" x 89". Heavy-duty construction assures minimal deflection (total weight of the 5-opening, 2100 ton model is 150,000 pounds). All models include high-speed hydraulics, vacuum pump system, and user-friendly computer-based controls.

The fully enclosed vacuum system help assure quality production by minimizing air, moisture and volatile entrapment. The vacuum system provides higher quality laminating and, in some cases, faster cycle times.

Automatic loading and unloading using a system of mobile accumulators can be provided for custom material handling.

According to Ted Soberay, president of TMP, 'Our new PTFE press offers the ultimate in high-temperature processing and control, while adding the production advantages of a vacuum system." Soberay also noted that while this system was designed for PTFE laminating, other models are suitable for most compression molded or laminated plastic resins.

For more information, contact Technical Machine Products, 5500 Walworth Avenue, Cleveland, Ohio 44102, Tel: 216-281-9500, Fax: 216-281-0408. e-mail: mail@techmach.com Visit TMP's website at www.techmach.com


More from Sensors, Monitors & Transducers