Vacuum Generators feature multi-stage design.
Press Release Summary: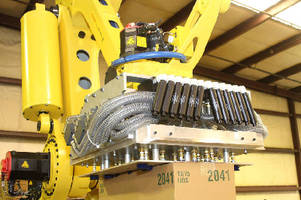 Measuring 7/8 x 1 7/8 x 6 ½ in., MFL Series is capable of vacuum flow up to 19.5 scfm and vacuum levels up to 27.2 in. Hg. Compressed air flows through small venturi nozzle and expands into first chamber to generate vacuum. Combination of compressed air and vacuum flow then flows through second and third venturi to also produce vacuum. Pumps are suited for pick and place applications, with vacuum cups for material handling where sealing is difficult and leakage is common due to uneven surfaces.
---
Original Press Release:

Air-Vac Engineering Introduces a Smaller, Lighter Pump Based on Feedback from Motion Controls Robotics



Seymour, CT - September 24, 2009 - Air-Vac Engineering is introducing its newest MFL series of vacuum generators that boast the same performance in a smaller, lighter package in booth #Booth # C4814 at Pack Expo at the Las Vegas Convention Center from Oct. 5-7.

Air-Vac developed the new MFL series of vacuum generators after meeting Motion Controls Robotics at a previous Pack Expo held in Chicago.

"Air-Vac Engineering has been a pump supplier to Motion Controls Robotics for a few years and we decided to visit their booth at Pack Expo Show in Chicago last year," said Andy Horn, mechanical engineer, Motion Controls Robotics. "We like their product and mentioned that it would be even better if they could make a lighter and more compact unit that would be more effective for our robotic applications. We look forward to testing out the new pump after the show."

"We appreciated hearing directly from Motion Controls Robotics about their requirements since we normally deal through distributors and looked forward to the challenge of creating a pump that had the same great performance in smaller, lighter package," said Carl Lawson, Product Manager, Air-Vac Engineering. "Our engineers went to work on the project and developed a new pump that could deliver the same performance as our previous version but weighed only half as much and took up less space."

The new MFL series of vacuum generators is specifically designed to reduce size and weight while providing high vacuum flow for fast evacuation. The MFL multi-stage design boasts a high initial flow rate, fast evacuation, quiet operation, low maintenance, and low cost. The pump can be used in pick and place applications, with vacuum cups for material handling where sealing is difficult and leakage is common due to uneven surfaces. Air-Vac's products are designed and manufactured in the USA.

MFL Series Features
Vacuum flow - to 19.5 scfm
Vacuum level - 27.2"Hg
Lightweight - 11.5 oz.
Compact - 7/8" x 1 7/8" x 6 1/2"

How it works

Compressed air flows through a small venturi nozzle to generate a high velocity. The air expands into the first chamber to generate vacuum. The combination of compressed air and vacuum flow from the first chamber flows through a second venturi where it produces vacuum. This combination flows through a third venturi to also produce vacuum. This design is capable of vacuum levels up to 27.2"Hg and vacuum flow up to 19.5 scfm.

About Air-Vac Engineering

Air-Vac is a designer and manufacturer of air-operated vacuum pumps. Air-Vac's primary design objective is to achieve maximum performance with a minimum consumption of compressed air. Almost fifty years of design experience combined with the ability to accurately measure characteristics has made Air-Vac the leading producer of OEM and special purpose air-operated vacuum pumps. Since 1959, Air-Vac has been designing and manufacturing vacuum pumps in the USA for applications worldwide. Air-Vac manufactures both single stage and multi-stage vacuum pumps in a variety of materials. For more information please visit www.airvacpumps.com.

About Motion Controls Robotics

Motion Controls Robotics is a leading provider of automation solutions to manufacturing industries since 1995. The company provides full service robotic solutions from concept to installation and service/support that keep manufacturers competitive. Motion Controls Robotics creates solutions for Fortune 500 and small to medium-sized manufacturers in general industries, food & beverage, food containers, building products, plastics companies, tier one and two automotive suppliers. They also automate small production shops and machine job shops. Motion Controls Robotics provides automation solutions to manufacturers for a variety of applications including material handling (case packing, palletizing and machine tending), material removal, sanding, deflashing, arc welding and vision-guided systems. Motion Controls Robotics is headquartered in Fremont, Ohio. For more information, visit www.motioncontrolsrobotics.com.

Best regards,

Janine Krasicky
President - J9 Media Solutions - 248.542.3991
janine@j9media.com - www.j9media.com

Integrated public relations & marketing communications

"We make a living by what we get, but we make a life by what we give." - Winston Churchill

More from Electrical Equipment & Systems