Vacuum Furnace suits industrial brazing applications.
Press Release Summary: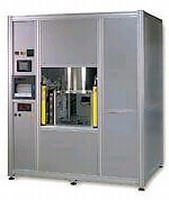 Utilizing solid-state induction heating technology, Model VF-20 heats parts of virtually any shape in high-temperature, high-vacuum environment. It requires less than 8 minutes to reach 1,900°F and cools down to 400°F in less than 20 minutes. Furnace operates at high vacuum or partial pressure of inert gas. Chamber has base vacuum of 5 x 10
-6
Torr with leak-up rate of less than 1 micron/hour.
---
Original Press Release:

New Compact Induction Heating Vacuum Furnace



May 30, 2006: Rochester, NY - Induction Atmospheres has developed an efficient new induction heating vacuum furnace designed for industrial brazing and general-purpose heating. The Model VF-20 efficiently heats parts of virtually any shape in a high-temperature, high-vacuum environment.

The VF-20 is ideal for brazing parts of unusual shapes and repairing "orphan" parts from other heating processes. To facilitate continuous flow manufacturing, the VF-20 utilizes the latest advances in quick, clean solid state induction heating technology. The furnace requires less than eight minutes to reach 1900°F; cool down time to 400°F is less than 20 minutes. The furnace operates at high vacuum or partial pressure of an inert gas. The chamber has base vacuum of 5x10-6 Torr with a leak-up rate of less than 1 micron per hour.

"The VF-20 facilitates lean manufacturing by moving the vacuum heating process away from a centralized area, into the manufacturing cell", said IA President Steve Skewes. "Our customers report improved manufacturing workflow with dramatic improvements in overall cycle time".

Founded in 2002, Induction Atmospheres is an independently-owned system integrator with extensive laboratory facilities, engineering expertise, full in-house machining and manufacturing capabilities. Clients such as General Electric, NASA, General Motors, Boston Scientific, Lufthansa Technik and Siemens have purchased IA turnkey heating systems for industrial brazing, welding, hardening and general-purpose induction heating applications. The company is headquartered in Rochester NY. For more information, please call 585.368.2120 or visit the IA website at www.inductionatmospheres.com

For More Information:
Paul Miller, Mkt. Comm. Mgr.
pmiller@inductionatmospheres.com

Induction Atmospheres
777 Elmgrove Road
Rochester NY 14624
585-368-2120
info@inductionatmospheres.com