Vacuum Furnace provides thermocouple control to 1,000°C.
Press Release Summary: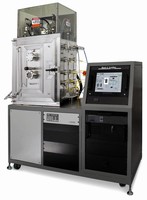 Model CVF 1000 Ultra High, Clean Vacuum Furnace is designed for degassing and conditioning components that are used inside vacuum environment to reduce outgassing and pumpdown time. It features 24 in. wide x 30 in. high x 24 in. deep SS water cooled chamber with hinged front door, high vacuum cryogenic pumping, molybdenum and inconel hot zone, full computer control with data logging, and recipe-driven procedures with optional chart recording.
---
Original Press Release:

New Vacuum Furnace from Lesker



Detail: CLAIRTON, PA. The Kurt J. Lesker CVF 1000 Ultra High, Clean Vacuum Furnace is designed for degassing and conditioning components that are used inside a vacuum environment to reduce outgassing and pumpdown time. These parts can be components that are used in the manufacture of end product, or tooling that is used to assist process and manufacture of end product.

Features include:
o 24" wide X 30" high X 24" deep stainless steel water cooled chamber with hinged front door
o Thermocouple control to 1000 degrees C
o High Vacuum Cryogenic pumping
o Molybdenum and Inconel Hot Zone
o Full Computer Control with Data Logging
o Ease of Use Maintenance
o Recipe Driven procedures with optional chart recording

Wherever there is a need for ultra high vacuum there will be a need for ultra clean, low out gassing of components inside the system. This ensures total cleanliness with lower out gassing, resulting in faster pump down and lower ultimate pressure.

P.O. Box 10
1925 Route 51,
Clairton, PA 15025-3681 USA
SALES: 800.245.1656
www.lesker.com
412.387.9200
Fax: 412.384.2745

Contact us at:
800-245-1656
412.387.9200
Fax: 412-384-2745
sales@lesker.com
international@lesker.com
www.lesker.com

Contact: Mark Mattis
Phone: 412.387.9200
E-Mail: markm@lesker.com
Web: www.lesker.com

More from Packaging Products & Equipment