Vacuum Clamping System aids wooden workpiece handling.
Press Release Summary: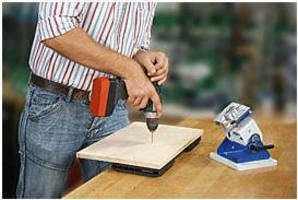 To assist technicians in workshops as well as fitters on construction sites, mobile Multi-Clamp VC-M clamps workpieces that can then be worked on from 5 sides without obstruction. Complete system offers Multi-Base for individual fixing of workpieces in all positions, and tension forces up to 1,500 N ensure safe handling. Available versions include Multi-Clamp vacuum plate VC-M-P, which includes integrated vacuum generation, and Multi-Base VC-M-B, which can be turned and swiveled.
---
Original Press Release:

Flexible Clamping and Handling of Workpieces Made of Wood



The Multi-Clamp VC-M vacuum clamping system is the ideal clamping solution for all types of manual woodworking, both in the workshop and on construction sites.

Multi-Clamp vacuum plate VC-M-P including integrated vacuum generation - a low-cost solution for flexible clamping of wooden workpieces.

Every woodworker encounters the following problem when sawing, planing, polishing or working edges: You need a "third hand" to hold the wooden workpiece in place, as both hands are already busy handling the tool. Moreover, not all workpieces are easily clamped with a vise. Often, the vise is even a hindrance. Vacuum specialist J. Schmalz GmbH, headquartered in the German town of Glatten, has found a solution to this problem. The company has developed a device that assists both the technician in the workshop and the fitter on the construction site: the mobile and flexible vacuum clamping system Multi-Clamp VC-M. It makes clamping with a vise or bench vise and holding the workpiece with one's hands unnecessary. Clamped workpieces can be worked on from five sides without obstruction. This also dispenses with time-consuming re-clamping. Depending on requirements, tension forces of up to 1,500 N (at -800 mbar) are possible, which guarantees absolute safety during handling. In addition to that, damages to the workpiece caused by mechanical clamping are avoided.

Multi-Clamp VC-M complete system with Multi-Base for individual fixing of workpieces in all positions so that they can be worked on from all sides

The Multi-Clamp VC-M vacuum clamping system is available in two different versions. It consists of the Multi-Clamp vacuum plate VC-M-P and the Multi-Base VC-M-B, which can be turned and swiveled. For an inexpensive stand-alone solution, the Multi-Clamp vacuum plate which includes integrated vacuum generation can be flexibly mounted on a workbench or work surface. It can be operated either with an ejector (VC-M-P) or a pump (VC-M-PV). In both cases, you only need a power connection to operate a compressed air device or the vacuum pump. Having started with the Multi-Clamp vacuum plate, you can expand to the complete Multi-Clamp VC-M system at any time. This second version also includes the Multi-Base turn/swivel device. This allows the picked-up piece of wood to be rotated continuously by 360° and swiveled left and right by 90°. The Multi-Base can be fixed in any position using a clamping lever. This allows you to work on all sides of picked-up workpieces - whatever their position. The complete system can be attached to the work surface mechanically or by means of a vacuum.

Questions regarding usage:
J. Schmalz GmbH
Customer Centre
Aacher Strasse 29
D-72293 Glatten
Tel.: +49 (0)7443 2403-105
Fax: +49 (0)7443 2403-9105
kundencenter@schmalz.de

More from Controls & Controllers