Vacuum Chamber Positive Pressure Kit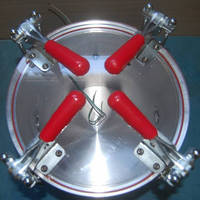 Holliston, MA. Abbess Instruments, a global provider of quality, vacuum systems with optional easy-to-use process control and data logging, offers a Positive Pressure Kit for use in a variety of applications.

Positive Pressure Kit

Converts a vacuum chamber to handle slight positive pressure.
Although Abbess chambers are NOT designed as pressure vessels, with the addition (by Abbess) of a Positive Pressure Kit a chamber may be subject to a small amount of overpressure:

Cylindrical Chambers - up to 5psi above atmospheric pressure

Cuboid Chambers - up to 3psi above atmospheric pressure

Includes:

Positive Pressure latches on lid or door

Large diameter Pressure Relief Valve

Requires:

Purge Gas Control Manifold required but NOT included (see Purge Gas Kits): Order on separate line.

Abbess Instruments makes vacuum chamber systems with optional easy-to-use process control and data-logging resulting in improved test/processing quality and time. Our customers are small to large organizations with low vacuum degassing through to high vacuum space simulation applications. Abbess Instruments' vacuum systems are delivered with industry-leading lead time. The company moved to new premises April 2nd 2012: The new facility more than quadruples production space to 17,000 square feet, allowing Abbess to improve delivery times, and to expand its product range to include much larger and more complex systems.


More from Explosives, Armaments, and Weaponry