Vacuum Blowers are equipped with hermetic drive.
Press Release Summary: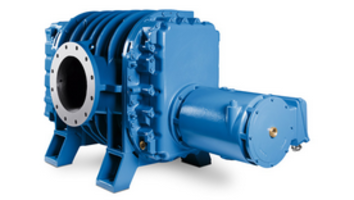 Vacuum Blowers offer vacuum range of 200 bis 10-5 mbar and are equipped with one or two backing pumps. Units are integrated with motor and are available in HM construction for neutral gases in 9 sizes. Products offer intake volume flows from 406 to 15,570 m³/h and are suitable for chemical and process engineering, foil and glass coating, evacuation of hydrogen and helium leak detection system applications. Blowers offer operations in vertical and horizontal directions.
---
Original Press Release:
New Drive for Vacuum Blowers with Hermetically Sealed Motor for the High Vacuum Range from 200 to 10-5 mbar
From the start of 2017, for driving the AERZEN vacuum blowers a new drive motor is used. In future, only one motor design (HM) will be available for neutral and aggressive gases. This synergy effect reduces the variant diversity of vacuum blowers to only one motor drive with hermetically sealed drive.
The AERZEN vacuum blowers (previously called canned motor blowers) suitable for permanent operation and with hermetic drive make particularly short pumping times possible and are used in industrial high vacuum technology for a vacuum range of 200 bis 10-5 mbar together with one or two backing pumps. These blowers work with a fully hermetic drive. The drive shaft is sealed by an integrated motor without connecting passage to atmosphere. Due to the almost doubling of the speed for smaller sizes, very short pumping cycles result compared with vacuum blowers with a speed of 50 Hz, which leads to a considerable acceleration of the production processes for the operator. Even if, for increasing the performance further, two backing pumps and one vacuum blower are integrated into a pumping set, the entire unit still distinguishes itself by a particular compact design - a special advantage concerning multi-systems with numerous pumping sets.
Vacuum blowers made by AERZEN are available in type of construction HM for neutral gases in 9 sizes for theoretical nominal intake volume flows from 406 to 15,570 m³/h. These systems are used for the generation of industrial vacuum, for example in chemical and process engineering, in foil and glass coating, evacuation of hydrogen, in helium leak detection systems. In addition, these blowers are working in the semiconductor industry, in microelectronics, in the manufacture of flat screens, in laser technology and in solar technology. The blowers can convey in both directions - vertical and horizontal. Due to the standard water cooling they are appropriate for application under clean room conditions. An excellent mechanical resistance (up to 150 mbar) reduces the pumping times. Moreover, the application of a frequency converter makes a high control range (1:5) possible, and therefore, the use of smaller blower sizes. Thanks to different motor variants for cyclical and continuous operations, an individual solution can always be found, even for special applications.
The Company
Industrial plants all over the world are provided with gaseous media using AERZEN blowers and compressors. The innovative AERZEN machine technology represents experience of more than 150 years company history. The range of products includes rotary lobe compressors, positive displacement blowers, turbo blowers, screw compressors and gas meters. AERZEN blowers, compressors and gas meters are tested and certified according to DIN EN ISO 9001. There is a variety of product offerings from standard products to customised solutions.
In addition, the AERZEN After Sales Service offers the complete range of services - from the full maintenance contract to repairs and upgrade of existing plants.