V Guide Linear Motion Systems afford design flexibility.
Press Release Summary: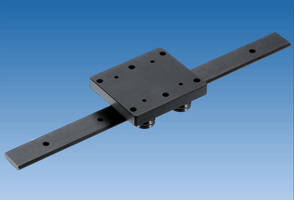 Available in 90° and 70° metric-sized versions, V Guides offer design flexibility that lets users assemble V Guide System in various Wheel-Rail combinations to suit range of light linear motion applications. Each system is comprised of wheel, integrated bushings, track, and traveling truck. V-shaped wheel circumference produces wiping effect that cleans up automatically while rotating on track's sliding surface. Track lengths are selectable; single and dual blade styles are available.
---
Original Press Release:

Misumi's V Guide Linear Motion Systems Offer Design Flexibility with Single and Dual Carriage Versions



Rugged system design includes V-grooved wheels, integrated bushings, single and double blade tracks to handle many different types of loads and applications.



(Schaumburg, IL) – MISUMI USA, Inc., a subsidiary of MISUMI Corporation, part of MISUMI Group, Inc. (Tokyo: 9962), has added new V Guides and V Guide Systems to its Linear Motion product lines. The V Guides are available in 90 degree and 70 degree metric-sized versions. Their design flexibility allows users to assemble the V Guide System in a variety of Wheel-Rail combinations to suit a wide variety of light linear motion applications.



The V Guides' precisely engineered components are available separately and in matched set assemblies.  Each system is comprised of a wheel, integrated bushings, track and traveling truck. The V-shaped wheel circumference produces a wiping effect which cleans up automatically while rotating on the track's sliding surface. Lubricating the surface regularly results in exceptionally smooth travel and longer operational life.  Eccentric bushings allow for fine adjustments, and the load should always be applied to stationary bushings.  Load calculator tables can be found in MISUMI's print and online catalogs.



Depending on the system selected, material options include heat-treated 52100 bearing steel and 440C stainless steel. Track lengths are selectable and are available in single blade or dual blade styles, with the choice depending on the load and application.  Shipping times for the products range from (3) three to (6) six days.



For more information about MISUMI V Guide Systems and other linear motion components, please visit our online catalog at us.misumi-ec.com or visit the Linear Motion Product Page.



About MISUMI USA, Inc.

Located in Schaumburg, Illinois, MISUMI USA, Inc. was established in 1988 as a Subsidiary of MISUMI Corporation, a part of the MISUMI Group (TOKYO: 9962). MISUMI USA, Inc. is a leading supplier of fixed and configurable components such as leader pins, single-axis actuators, linear shafts, slotted keys, aluminum extrusions, parting locks, linear guides, XY stages and other components for factory automation, plastic mold and press die industries.  For a complete list of available components, please visit MISUMI USA.





MEDIA CONTACT

COMPANY CONTACT

MISUMI USA, Inc.

Patrick J. Esposito

Marketing Manager

P. 847-843-9105

F. 847-592-5922



AGENCY CONTACT

Outlook Marketing Services, Inc.

Christa Carroll

P. 630-922-6995

E. christa@outlookmarketingsrv.com

More from Software